Newly cloud-tastic Oracle sees hardware sales droop
Is public cloud focus punishing on-premises biz?
---
Analysis In its third fiscal 2017 quarter a post-NetSuite slurp Oracle saw marginal revenue and profits growth, but with inflated cloud revenues, the Oracle-ites are happy.
It's all gloom on the hardware product sales front, though, as it seems that this quintessential on-premises selling business goes down in reverse lockstep with the cloud business going up.
Here is a chart showing how Oracle's hardware product revenues have been declining over the past few quarters while its cloud revenues have been growing: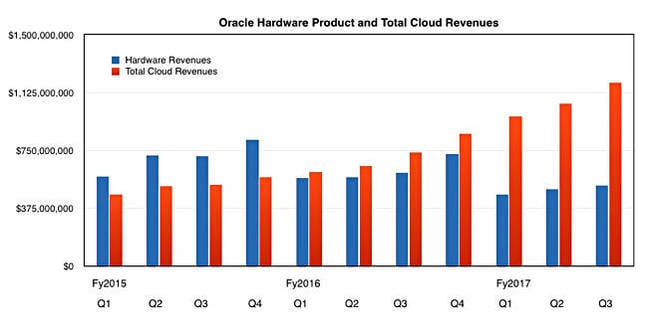 We can see that when Oracle's overall revenues stopped growing that hardware revenues stopped growing as well, cloud revenues increased quite slowly, passing hardware product revenues in fiscal 2016's first quarter. Then they took off in the third fiscal 2016 quarter after the acquisition.
The hardware business has been in decline for several years, virtually since it bought Sun Microsystems in 2009, and it has not been depressed directly by Oracle's own cloud efforts: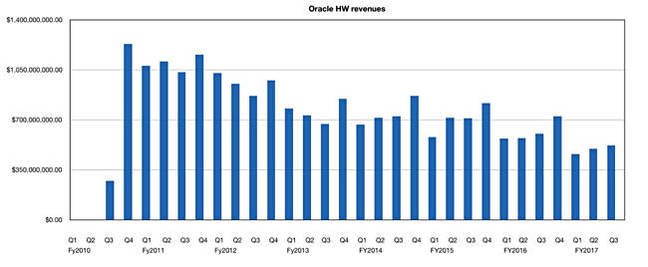 Blow this up to a bigger size by clicking on the chart
So what has depressed it? We see two main things. The first is the rise and rise of Intel's x86 server processors, with Xeons exerting a great squeeze on Sparc processor sales. The second is Oracle's failure to build up the storage side of Sun, the disk arrays, and its StorageTek tape business and have both of them grow.
At a $2bn annual run rate the Oracle hardware business is not to be sneezed at, but we might say it's spread a bit thin. The tape library business looks set to be managed into its end of life. Its Sparc processor has a roadmap and that looks a lot healthier.
We might look at at its storage hardware line and wonder where that is headed. ZFS is getting long in the tooth in the NAS field. The FS1 flash-based SAN array is going to start meeting competing products using NVMe drives and very fast server fabric interconnects, such as NVMe over fabrics. It also faces a need to operate in a world of server SANs with 3D XPoint storage-class memory or similar tech.
When competing storage array suppliers can offer significantly faster Oracle database storage, and help alternative databases go faster than Oracle's then Oracle's storage hardware execs will have expensive product investment questions to answer. If most of Oracle's business goes to the cloud then this will be a relatively short-term problem.
However, Oracle likes vertical integration and, with new Sparc processors coming, we'd assess the likelihood of Oracle revving its storage array technology as being quite high. ®