This article is more than 1 year old
Pro Evo-lution shocker: Samsung SSDs focus on endurance over capacity
Can't cram crazy TBs in so new 860s bring speed and longevity
Samsung's new 860 Pro and Evo SSDs have virtually the same capacity and performance as the 850 line, but with much higher endurance.
The 850 drives were launched in 2014 and boasted 128GB to 2TB capacity in 2.5-inch form factors with a 6Gbit/s SATA interface. They used 32-layer V-NAND, Samsung's version of 3D NAND – 2bit/cell MLC flash in the Pro and 3bits/cell TLC flash in the Evo.
Unusually, the Pro had a 10-year warranty period, whereas the Evo had a more normal five. Maximum Evo capacity later rose to 4TB.
So now we have the 860 Pro and Evo built with 64-layer V-NAND and still in MLC (Pro) and TLC (Evo) form. The entry-level capacity now starts at 256GB working up to 512GB, 1TB, 2TB and 4TB.
The Pro is a 2.5-inch SATA drive. The Evo also comes in mSATA and M.2 form factors. The M.2 model tops out at 2TB and the mSATA at 1TB.
Both have a Samsung MJX controller – an update on the 850s' MHX. The sequential read/write performance is up to 560/530 MB/sec for the Pro and up to 550/520MB/sec for the Evo. These are marginally higher than the corresponding 850 models.
Random read/write IOPS for the 860 Pro are up to 100,000/90,000 and to 98,000/90,000 for the Evo – virtually identical to the 850.
The big performance change is endurance. Both 860s have a five-year warranty and the Pro can handle 4,800TB written over its life, while the Evo can manage 2,400TB, both at the 4TB capacity level*.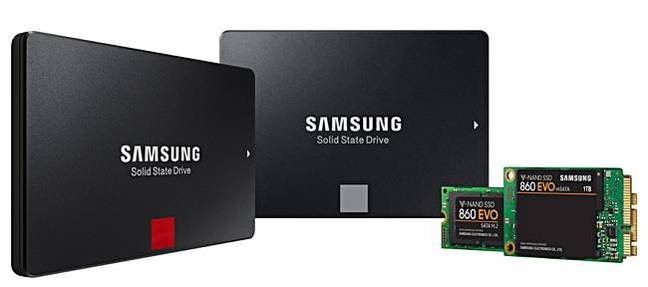 For comparison the 4TB and 2TB 850 Evos supported 300TBW, while the 2TB 860 Evo does 1,200TBW – four times as much.
Both new drives are self-encrypting with AES 256-bit hardware support and TCG Opal software encryption.
Competing SSDs
Micron's Crucial brand MX500 also uses 64-layer TLC 3D NAND and a 6Gbit/s SATA interface but tops out at 2TB in 2.5-inch guise and 1TB in M.2 format. Endurance at 360TBW is inferior to the 860.
Seagate's Nytro 141 is outclassed. It has a 1TB maximum capacity model (960GB endurance model) with up to 92,000/88,000 random read/write IOPS and 560/530MB/sec sequential read/write bandwidth.
Toshiba's SG6 is another comparable drive. It uses 64-layer TLC flash and has 256GB, 512GB and 1TB capacities – outclassed there again. It has a five-year warranty and a 1.5m-hour mean time before failure, but Toshiba does not provide a TB written rating. We'd suppose the 860 has it beat there too, though.
The 860 Pro and Evo SSDs are available from this month starting at $139.99 and $94.99 respectively. ®
*Warranted TBW for 860 Pro: 300TBW for 256GB model, 600TBW for 512GB model, 1,200TBW for 1TB model, 2,400TBW for 2TB model and 4,800TBW for 4TB model. Warranted TBW for 860 Evo: 150TBW for 250GB model, 300TBW for 500GB model, 600TBW for 1TB model, 1,200TBW for 2TB model and 2,400TBW for 4TB model.