Microsoft is rolling out an update to Office products to introduce Windows 10-style telemetry data slurping. Or rather the software business has made it very clear to users it is doing so and they cannot opt out.
With a certain piece of European legislation around the corner concerning privacy, the timing is interesting to say the least.
El Reg was last week informed by a reader that the standalone version of Word 2016 had begun displaying a message forcing users to "Share how you use Office" with options to send Full or Basic diagnostic data back to Microsoft's servers in a manner very reminiscent of Windows 10.
Users have been only able to select one option or the other.
Complaints then surfaced on Twitter that the same thing had begun appearing on the macOS version of the productivity suite.
Microsoft Word 2016 for MAC, no option to send NO diagnostic data. WHY @Office #privacy pic.twitter.com/UrcnKn94Z8

— Primary Technologies (@PrimaryTechCom) May 18, 2018
A page on the support website for Office explained the logging levels. The Basic level collects and phones home to Redmond enough data to keep the Office apps up to date as well as lobbing simple crash dumps at the IT giant. The Full level does a bit more, giving Microsoft carte blanche to nag helpfully inform users about functions and features that might be of interest.
Microsoft, via its support website, was at pains to point out that no personal data has been deliberately collected, and there is no way to identify a netizen from the slurped information.
However, to muddy the waters, it doesn't appear that all Word users are being offered the choice.
Microsoft has stated on its support site that the options are set during installation and can then be changed between Basic and Full using Office's Privacy Options. However, users are reportedly being forced to make the choice on already installed applications while others (including El Reg) are not seeing the options at all, regardless of application build number.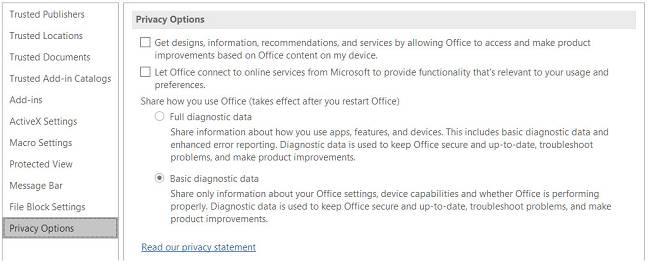 The shiny new Trust Center
With Windows 10 not offering users an opt-out from diagnostic data reporting, it shouldn't shock users to see a similar feature making an appearance in Office. What is more surprising is that the pop-ups have only just begun appearing.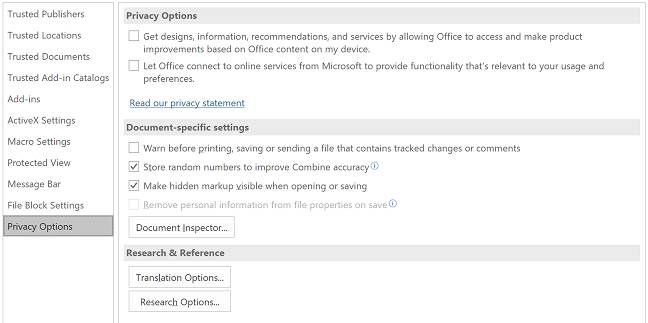 The Trust Center in the pre-sharing and caring age
The Register took a long look at the XML spat out by Microsoft's Diagnostic Data Viewer and could see no evidence of Word showing its derriere to Redmond. Of course, there is no guarantee that the Office slurpage will even be viewable.
El Reg asked Microsoft when the feature began to roll-out and if the thinking was to bring Office into line with the diagnostic policies of Windows 10. A Microsoft spokesperson responded after eight days with:
As you use Office, we collect diagnostic information that helps us find and address issues, improve our products and services, and provide you with customized experiences. For more information around how we protect your data you can visit the new privacy dashboard (https://account.microsoft.com/privacy).
We've asked for some more clarification and will update if anything is forthcoming from the Office behemoth. ®
Similar topics