UK government bodies collect data "as an afterthought" or when they've been caught off-guard in a grilling, Parliament's Public Accounts Committee's chairwoman Meg Hillier has said.
In her annual report, published today, she describes poor quality data as "the perennial bugbear" of her committee, saying that it has seen repeat examples of information not being accurately recorded.
"Too often we see departments collecting data as an afterthought or after they have been called out for not understanding the outcomes of their strategies or spending," Hillier said.
Collecting the right information consistently and over time is not only vital for the government to assess its projects, it also allows the taxpayer to scrutinise public spending – and is relied upon by contractors when tendering for work.
"We have seen again this year examples of where bidders for government contracts have believed the data they have received from government is accurate and based their proposals on this," she said.
Just last month, the outsourcing giant Capita was grilled over its mishandling of the NHS's Primary Care Services contract. Execs said it did not have all the data it needed in advance of the project, causing it to end up "working blind" for a period of time.
Outsourcing was also a pain point for the committee, which expressed concerns about the civil service's ability to draw up and manage contracts, but also the prospect of contractors collapsing, a la Carillion, which was one of 28 suppliers with more than £100m of business with central government.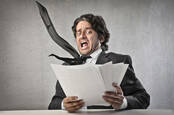 Universal Credit has never delivered bang for buck, but now there's no turning back – watchdog
READ MORE
"Those running [Carillion] had convinced themselves they were too big to fail and too important to Government to be let go," the report said.
"Although the Government feels it has proved that it will not be held to ransom by its strategic suppliers and has kept public services going, the impact on Carillion's subcontractors is ongoing, with some owed thousands of pounds and some facing collapse."
Elsewhere in the report, Hillier expressed concerns about a "culture of denial" within government when negative reports were published – a pointed reference to Secretary of State for Work and Pensions Esther McVey's attempts to downplay the National Audit Office's scathing report on Universal Credit – and the government's ability to handle the mammoth task of Brexit.
This includes "real concerns about HMRC coping from day one of the UK's exit from the EU" since its plans to update its IT systems for customs and traders are in danger of not being ready for Brexit.
"We are watching the risks around HMRC's introduction of its new customs system, the Customs Declaration Service, closely," Hillier said.
"With nine months to the leave date we still don't know what the outcome of the negotiations are going to be. HMRC is having to plan for all scenarios – deal, no deal and transition – a huge drain on its time and resources."
Dealing with this project also comes on top of HMRC's other change programmes in IT, efforts to move staff to 13 so-called government hubs, which overall led Hillier to put it on her list of problem departments.
This also included the Home Office for its "inexcusably late" Emergency Services Network programme, and the Ministry of Justice's plan to develop new electronic tags based on GPS technology. The new tags will be rolled out next year – five years late and reliant on the same tech that was commercially available when it started. ®