This article is more than 1 year old
Toshiba and WD indulge in mutual 96-layer flashing: Two partners, two products
Some chips have more bits than others, though
Tosh and WD's flash foundry joint venture has begun to pump out 96-layer 3D NAND chips and the two partners are using them to produce quad-level cell (QLC) products. TLC Tosh has a 1TB SSD with 3 bits/cell while it and QLC Western Dig have a 1.33 Tbit chip with 4 bits/cell.
Toshiba's XG6 is a single-sided M.2 "gumstick" (22x80mm) form factor product, updating its XG5 M.2 drive, which used 64-layer 3D NAND to produce 256GB, 512GB and 1TB drives. Both have an NVME interface.
Although the 96-layer TLC chip, with its 512Gbit die, has about 40 per cent more capacity, per unit chip size, than the 64-layer one, the XG6 capacity levels are the same as that of the XG5.
Another odd thing about the XG6 compared to the XG5 is its performance profile, with the XG5 doing up to 144,000 random read IOPS and 119,250 random write IOPS – the classic pattern of faster random reading than writing. The XG6 numbers are 355,000 random write IOPS and 365,000 random read IOPS.
The XG5 does 3GB/sec sequential read and 2.1GB/sec sequential write, with the XG6 doing 3.18GB/sec reads and 2.96GB/sec writes – back to the classic pattern.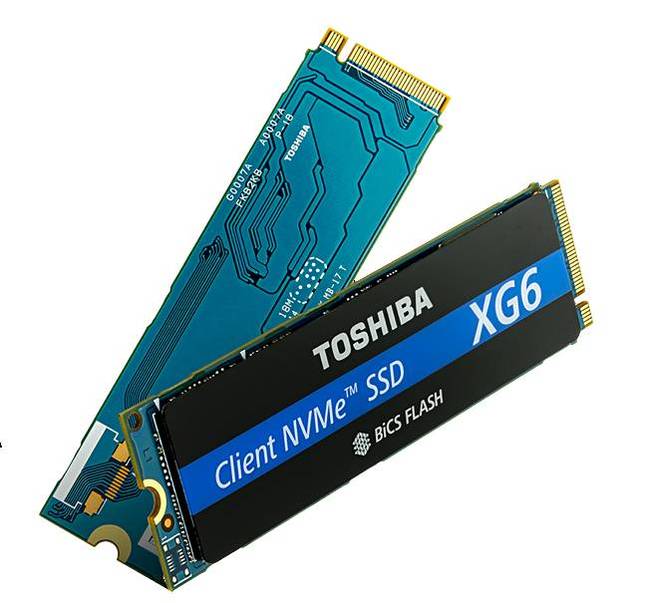 Toshiba has an XG5-P, a premium model M.2 2TB drive, using the 64-layer TLC 33D NAND chips. So we can hope to see a forthcoming XG6-P using these 96-layer TLC chips with a capacity, say, of 3TB.
The XG6 has a five-year warranty and a 1.5 million hours MTBF rating. We have not been given endurance numbers. It is sampling to OEMs for use in drives for PC/mobile and embedded devices and data centre products.
Toshiba said it is developing a QLC (4bits/cell) chip which would have one-third more capacity than its TLC chip.
Western Digital's and Tosh's QLC chips
WD has a 1.33Tbit QLC chip using the same fab output chips, and said this is the industry's highest 3D NAND storage capacity in a single chip.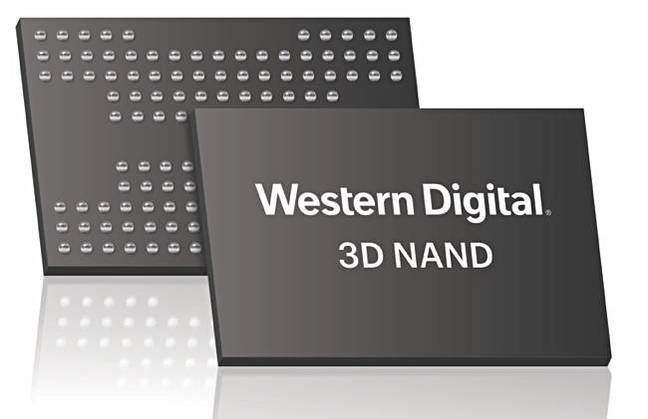 The chip is sampling now and volume shipments should begin before the end of the year with SanDisk-branded consumer products. WD said it expects these chips to be be found in products spanning the retail, mobile, embedded, client and enterprise spectrum.
A SanDisk Ultra currently offers up to 2TB. We might expect 3TB.
Tosh America Inc, the US subsidiary of Toshiba Memory Corporation, also has a prototype 96-layer QLC chip. It said it has a 1.33Tbit single chip capacity; the same as WD; no surprise there. Tosh is stacking 16 of these chips in a single package to produce a 2.66TB "super-chip".
Sample shipping to SSD and controller vendors will start in September with mass production expected in 2019.
Samsung, Micron and Intel
Earlier this month Samsung said it was producing 90+layer 3D NAND chips and has a QLC development. Micron has also just arrived at the 96-layer level and has 7.68TB QLC SSD, the 2.5-inch ION 5210, which uses 64-layer technology. We might hope to see a 10TB 96-layer version.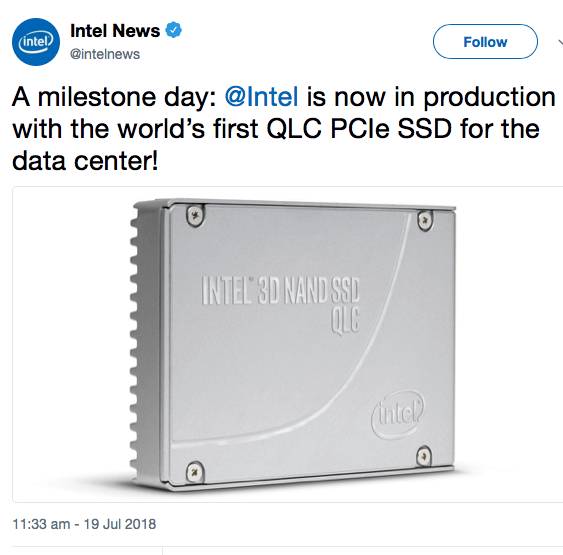 Intel has tweeted that it has a QLC data centre SSD in production, and has a 20TB 2.5-inch SSD in its sights. More details will be revealed at the 6-9 August Flash Memory Summit.
We are entering the 96-layer and QLC flash era, with a transition from SATA and SAS to NVMe ongoing as well. The flash fortune cookies are giving us a feast of good news. ®