This article is more than 1 year old
This revolution will not be televised – but it will be sanctioned: Googlers walk out over 'sex pest' executive scandals
We went along to CEO-approved demo in San Francisco
Pics Thousands of Google employees across the globe marched out of their offices today upset that the advertising giant has paid millions of dollars in exit packages to male executives accused of sexual harassment.
Google stayed silent on the reason for those departures, whose beneficiaries included the creator of the Android mobile operating system Andy Rubin, according to the New York Times. Rubin denies any wrongdoing, and said the allegations against him are a "smear job" amid his divorce.
Starting at 11.10am wherever an office was located, Googlers got up from their desks and left the building, many carrying protest signs and tweeting under the hashtag #GoogleWalkout. The walkout began in Tokyo, Japan, wrapping around the world until it reached Google's bases in California, USA. In San Francisco, we witnessed hundreds of employees march out of their plush offices and rally at a nearby public square to hear speeches from local organizers.
The demonstrations were planned over the course of two days. One of the leaders in San Francisco, Cathy Bi – herself a victim of sexual harassment at Google – confessed that right up until the last minute she considered cancelling the event out of fear of retaliation from bosses.
"I really hope I can continue to work in Silicon Valley," she told a gaggle of reporters after the protest ended.
Overt retaliation seems unlikely after Google CEO Sundar Pichai recognized the depth of feeling among employees, and sent an email the day before the protests promising employees would "have the support they need if they wish to participate."
Regardless, many of the Google staffers we tried to speak to during the protest remained tight-lipped, and didn't want to say anything beyond expressing solidarity for their colleagues. Even the organizers were extremely cautious about talking publicly about issues within the Silicon Valley ads goliath.
Privacy pleas
Despite standing in a public square moments earlier, telling several stories of sexual harassment that Google management had dismissed or swept under the carpet, none of the speakers would be drawn on what they expected to happen, or even if they would continue to protest if Google did not accede to a series of demands to improve the situation.
"These types of changes don't happen overnight," said the strikingly reasonable Bi. She wouldn't discuss her case, or anyone else's. Or the demands. She refused to be on camera for a Bay Area telly channel. "Thank you for respecting my privacy," she told the clearly exasperated TV news reporter. "You do realize that we have you on camera addressing the crowd?" the baffled journo responded.
Bi did, however, say that she was "personally not surprised" by the revelations that Google had paid off male execs and kept quiet about it.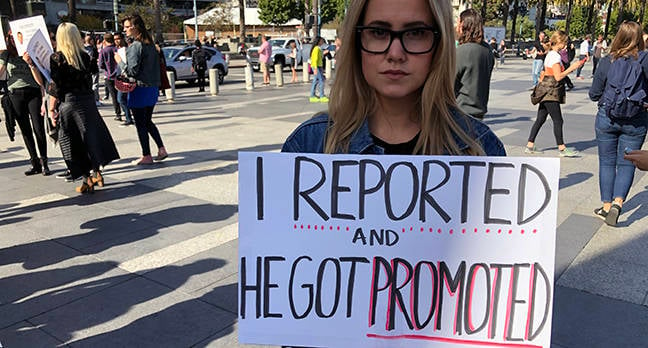 One victim of sexual harassment prepared to speak out. Her harasser still works at Google.
Someone who was willing to talk was a young woman holding a sign that read: "I reported and he got promoted." With tears in her eyes and a friend comforting her, she told us that she had been sexually harassed by a male colleague, and formally reported the matter, yet "nothing happened."
Instead, she said, she was put on a performance plan for three years while he was promoted. He still works at Google, she noted. We asked her if the protest had given the courage to speak publicly: Yes. And if she felt supported by her colleagues walking out: Yes. She said she was happy to be photographed.
What was notable about the protest, though, was how very Google it was. We arrived at just after 11am PT at its SF base – its main corporate headquarters are 40 miles south in Mountain View – and found roughly 20 people milling around in a small square.
The protest was due to start at 11.10am. And at literally 11.09am, the square was packed as hundreds – we estimate between 300 and 400 – appeared as if from nowhere. Googlers are nothing if not precise. One Googler estimated more than 1,000 turned up eventually.
The new San Francisco
The protest marched along San Francisco's waterside to the public square opposite the city's famous Ferry Building where everyone stopped to listen to speeches. This was modern-tech San Francisco – lots of well-dressed young professionals behaving impeccably, stopping at the crossing, keeping entryways clear, politely listening, expressing support, but not too loudly.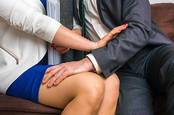 As angels, rich dudebros suck: 1 in 5 Y Combinator women tech founders say they were sexually harassed
READ MORE
It's also clear that Google workers are not the type to go protest. Such San Francisco events – and there are many in this bastion of liberal America – are usually raucous high-energy affairs with focused intent and are typically accompanied by some kind of police presence. We didn't see a single cop.
The speakers tried out a range of traditional call-and-responses which elicited heartfelt but low-key responses. Bizarrely, the most popular chant spoke to the peculiar insularity and cult-like tech culture that has come to dominate this city: "This is what it means to be Googly," the loudspeaker offered again and again. Which presumably means something to the gathered masses but which left bystanders notably confused.
Truth be told, if it was possible to accurately count incidences of sexual harassment across corporate America, Google would be unlikely to come in the top half, in this vulture's opinion. Five anonymous incidents of sexual harassment were read out – such as a manager who had a lighter in the shape of a woman whose breasts illuminated when it was lit and felt that that was something he should share with his female colleagues. However, in the era of #MeToo when some truly terrible stories have come to light, the crowd only mustered theatrical boos to Google's examples.
That is not to say that Google doesn't have a serious problem, nor to downplay the aforementioned claims: when a load of your employees are willing to walk out on their jobs to complain about the management's inaction – something that under other circumstances would be "career limiting" – it means something is wrong.
Corporate response
So far, Google's management has chosen not to say anything beyond the fact it is listening and taking its staffers' concerns seriously. We looked and were unable to see any obviously senior managers in the crowd. The benchmark will be how management and CEO Pichai respond to the demands laid out by protesters:
An end to forced arbitration in cases of harassment and discrimination for all current and future employees
A commitment to end pay and opportunity inequity
A publicly disclosed sexual harassment transparency report
A clear, uniform, globally inclusive process for reporting sexual misconduct
Promote the Chief Diversity Officer to answer directly to the CEO ... In addition, appoint an Employee Representative to the Board
A fuller explanation is online. This is, by the way, the same Google that is trying to make a censored search engine for the Chinese government, a move that upset staff but didn't quite spark a public march.
At 11.35am, the demonstrators called it a day, and walked back to their office – just in time for lunch, although we're told quite a few stayed or lingered on toward midday. Allowing for a five minute walking time each way, for those who left immediately, that made it a 30-minute affair on the dot. Very Googly.
We can't see Google changing its Board composition, but the others seem reasonable given who Google is, what its claimed corporate culture is supposed to be, and the obvious depth of feeling expressed today in its offices across the planet. ®