This article is more than 1 year old
The Six Billion Dollar LAN: Intel hopes to gobble network kit biz Mellanox 'for $6bn'
Ethernet and InfiniBand kit would be tempting for Chipzilla
Intel has offered up to $6bn to buy Israeli InfiniBand and Ethernet networking manufacturer Mellanox, according to local reports.
The firm – which was said to have hired an investment bank to help it find a buyer in October last year – has been reportedly courted by both Microsoft and Xilinx, with whispers about a $5bn price tag.
Mellanox Technologies has some 2,700 employees. Customers it has inked sales and manufacturing deals with include Alibaba, Dell, DDN and HPE.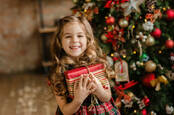 What's this under the Christmas tree? A gift-wrapped Mellanox, for Microsoft? Say it ain't so
READ MORE
In Mellanox's latest results for calendar Q3 quarter ended 30 September 2018, it reported a 24 per cent year-on-year sales hike to $280m, due to growing demand for its data centre gear. Profit from the period was $37m, up from $3m on the prior year's Q3.
Intel also has an Ethernet business alongside its core CPU and semiconductor products such as 100Gbit/s Omni-Path fabric IO. The Mellanox products would add faster data centre networking to Intel's Ethernet portfolio.
InfiniBand and Omni-Path appear to overlap. However, Omni-Path runs the same Open Fabrics Enterprise Distribution drivers as Mellanox InfiniBand and is, according to our sister publication The Next Platform, just another flavour of InfiniBand. In that sense, an acquisition would secure supply for InfiniBand networking.
Chipzilla employs 12,700 people in Israel and recently outlined plans to invest $11bn in a new fab at its Kiryat Gat facility, which has two fabs already.
Intel is also expanding facilities in the US – Fab 42 in Arizona and D1X in Oregon – and Ireland.
Starboard Value, which currently owns 8.6 per cent of Mellanox, had plenty of angry words for the firm when it refused the advances of Marvell Semiconductor back in November 2017. The bolshy investor, which held 10.7 per cent of the company at the time, said the company was undervalued and should think about selling itself.
That followed a dip in Mellanox revenues and profitability, as the chart shows.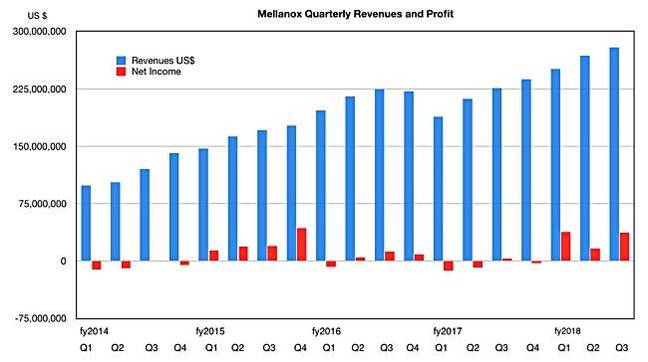 Since then the company has rebuilt its revenues and profited in each 2018 quarter.
Mellanox appointed Doug Ahrens CFO at the beginning of the year, a move some analysts viewed as indicating it didn't want to sell itself.
If Chipzilla indeed intends to push through this acquisition, it might logically include Mellanox in its Data Centre Group, which builds products for the enterprise, cloud, communications infrastructure and technical computing market segments.
Neither Intel nor Mellanox has commented on the acquisition reports. ®