Holy high street, Sainsbury's! Have you forgotten Bezos' bunch are the competition?
Supermarket chain helps Amazon, er, live well for less through AWS
AWS Summit London Perceived wisdom in the enterprise tech world is that the future of IT is in hybrid cloud – mixing on-premises infrastructure and public cloud resources – but AWS was still preaching the gospel of total and utter cloudification at its gabfest in London on Wednesday.
The public cloud juggernaut hauled out one of its largest UK customers – Sainsbury's, aka the "Premium Economy" of British supermarkets – and launched a new instance type designed for fast storage at its summit under the glass pyramid of east London's Excel centre.
Matt Garman, VP of EC2 at AWS, kicked things off by highlighting the myriad ways punters can pipe their data into Amazon's public cloud. Garman said the company believes all workloads will eventually reside in its the cloud, so the current penchant for hybrid is just a step on the way towards total cloud assimilation.
Nevertheless, he pointed to the immediate arrival of Outposts – servers designed by AWS to be housed in on-premises data centres, currently in private preview. Garman also talked up the business relationship between AWS and VMware. AWS is no longer the only public cloud vendor to enjoy official support from the virtualization house, but it was certainly the first of the Big Three.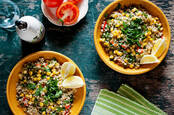 You'll soon be buying bulgur wheat salad* from Amazon, after it swallowed Whole Foods
READ MORE
Garman reiterated that AWS is working on a VMware version of Outposts – expected in the second half of the year. This will likely lead to a strange situation where Amazon will sell VMware into enterprise data centres.
AWS is the undisputed heavyweight champion of cloud computing; today, it runs 21 infrastructure regions – each consisting of several data centres – and has another four under construction. Its platform offers 165 services, more than 190 instance types and 14 databases – twice the number of its nearest public cloud competitor, according to Garman.
This would not be an AWS keynote without some sniping at the competition: the veep said AWS now hosts more than twice the amount of Windows VMs than Microsoft's own Azure cloud, a stat confirmed by IDC.
Sainsbury's goes on record
The fact that Sainsbury's spends any money with AWS is somewhat surprising: American retailers have been dropping the cloud platform like it's hot, concerned about funding a competitor. Amazon acquired Whole Foods in 2017, getting a presence in physical retail, and it is also responsible for cashier-less, fully automated Amazon Go stores – although these are yet to reach Blighty.
For example, Walmart recently switched from AWS to Azure, admitting that the deal was fuelled by its animosity towards Amazon. Target was another business to move to Azure, for very much the same reason. Meanwhile, another British retailer, Ocado, built its entire platform – including the bits that control fleets of robots in its automated warehouses – on OpenStack to avoid being held hostage by any of the major public cloud vendors.
And yet Sainsbury's fell for AWS – hook, line and sinker. "Our relationship with AWS really kicked off at the point we decided to take our groceries online business and rebuild it in the cloud. This was effectively taking a WebSphere e-commerce monolith with an Oracle RAC database, and moving it, and modularising it, and putting it into AWS," Sainsbury's CIO Phil Jordan told the audience.
"That movement of RAC to RDS and that big database migration was all done using AWS services, and now we have a fully fledged cloud-native-ish service that runs groceries online across all of our business. Today, we run about 80 per cent of our groceries online with EC2, and 20 per cent is serverless."
In total, the company migrated more than 7TB of data into the cloud. As a result, or so Jordan claimed, the mart spends 30 per cent less on infrastructure, and regularly sees a 70-80 per cent improvement in performance of interactions on the website and batch processing. So far, there's been no "major" outages, said the CIO, without defining "major".
Moving to the cloud has also helped Sainsbury's into the warm infinity-looped embrace of DevOps. The company has moved from five to six releases per year to multiple releases per day, said the CIO.
New instance
As for the new instance variety, I3en, it was ostensibly designed to give AWS customers the fastest storage available without breaking the bank. It's based on NVMe SSDs, with up to 60TB of capacity per instance, alongside 96 vCPUs, and 768GB of memory, on a 100Gbps network made possible by leveraging AWS's custom Nitro network interface cards. Garman claimed these work out around 50 per cent cheaper per GB than its previous generation of I3 instances. They are available immediately worldwide.
"I3 was our first NVMe-based instance-charged platform, and it's the go-to platform for most of our customers that are doing high IO applications, that need great random IO performance. A lot of customers said, 'we love the platform, but we need more storage on there, and we need cheaper storage.' I3en is designed to meet that use case," Garman said.
"Designed for IO-intensive applications and workloads such as high-performance relational databases, NoSQL databases, distributed file systems and data warehouses, I3en instances deliver the highest instance storage in the public cloud." ®