UK Space Agency cracks open its wallet, fishes out a paltry £2m for Brit plans to return to orbit
Cash for horizontal launchers and PowerPoint slides
The UK Space Agency has flung open the doors on a mighty £2m fund aimed imbuing Blighty with spaceflight capabilities.
The agency breathlessly speculated this morning that existing airports could develop the capability for spaceplanes to take off and deploy satellites, or send vehicles on sub-orbital jaunts.
We, however, would point out that $2m could just about purchase a pokey-looking three bedroom flat in Fitzrovia, London, let alone be used to build the infrastructure and training needed to further Brit ambitions of derring-do outside of the atmosphere.
Rather than build actual infrastructure, the money is more likely to disappear into the production of endless PowerPoint presentations or, as the UK Space Agency put it on Wednesday, "help develop ambitious proposals".
Still, the UK does have several launch sites in varying states of development. In 2018 Spaceport Cornwall was bravely trumpeting a partnership with Virgin Orbit to bring its LauncherOne to UK shores. LauncherOne consists of a rocket slung beneath an old Virgin Boeing 747, fired at 35,000ft and capable of delivering between 300 to 500kg to orbit. The Skyrora gang also intend to use the wannabe spaceport for its rocket engine tests.
Back in July last year, the Agency announced backing for a vertical launch site at The Moine, Sutherland, dropping £2.5m cash into a pot of £17.3m earmarked to support the project by Highlands and Islands Enterprise (HIE). HIE added £9.8m itself.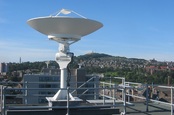 So, that's cheerio the nou to Dundee Satellite Receiving Station: Over 40 years of service axed for the sake of £338,000
READ MORE
Other Scottish and Welsh sites are also in the mix, although the agency cautions that individual applicants will only be able to apply for up to £500,000. So don't spend it all at once, okay?
Recipients of the UK Space Agency's largesse will be expected to use the cash to develop business cases for horizontal launch services staring in the early 2020s, aimed at securing suppliers and investors.
The space industry is an important one for the UK. It hauled in £14.8bn for the period 2016/2017. Exports accounted for a tasty £5.5bn. Alas, choppy waters are ahead with the UK's impending exit from the European Union. 69 per cent of those exports were destined for France and ESA.
Last year the UK government greenlit £92m on pondering if it could make its very own Brexit Satellite (BS) to replace the EU's Galileo navigation system.
Rather than dropping just £2m on developing horizontal launch services, redirecting funding from the BS to building a domestic capability would seem more sensible, if the UK is truly serious about flinging satellites into space from Blighty's shores. ®