Samsung goes Marie Kondo on its public cloud outfit: Does this bring me Joyent? Nope. Then in the bin it goes
That three-year anniversary party took a dark turn
---
Samsung has killed off its Joyent public cloud – its unsuccessful answer to Amazon and Google's public cloud services – almost three years to the day after it acquired the biz.
Joyent is well known for being the first corporate steward of node.js, as well as developing container management software, though it was seen as being too small to take on the usual tech giants in the cloud market – which is why its purchase by Samsung was seen as giving it a solid future.
Not so. In a blog post this week Joyent's president and chief operating officer Steve Tuck downplayed the dumping of the business' main service – a public cloud offering – and waxed lyrical about its "single-tenant cloud offering for cloud-mature, hyperscale users."
He added: "Starting in November, we will be scaling back the availability of the Joyent Public Cloud to customers of our single-tenant cloud offering." Which is corporate speak for "Samsung is killing off its public cloud efforts and it'll now only be used internally."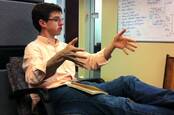 'Unikernels will send us back to the DOS era' – DTrace guru Bryan Cantrill speaks out
READ MORE
Any users of Joyent's service will have to "find a new home" and the company is "committed to working closely with your team… to transition your applications and infrastructure as seamlessly as possible."
Tuck does allow a little bit of his clear disappointment at having his dreams of becoming the next AWS to show through, however. "We have a heartfelt sense of responsibility to you," he told customers, "and are immensely grateful for having the privilege to work with so many great companies and individuals over the years."
The truth is though that Joyent never managed to crack the market when ranged against the big beasts of Amazon, Google, and Microsoft. A year after its acquisition, Gartner put the company firmly in the "niche" box and gave it a harrowingly low "ability to execute" rating. The next year, it simply dropped Joyent (and seven others) from its cloud market analysis altogether.
So, sorry Joyent, you did your best, and your container tech was fascinating, but you became an also-ran in a market where scale is everything. ®