This article is more than 1 year old
In case you wanna launch your boss into the Sun, good news: Earth's largest solar telescope just checked and, yeah, it's still pretty fiery
Most detailed close-ups of our star are in – and get a load of these plasma bubbles the size of Texas
The first images from Earth's largest solar telescope are providing the most detailed, close up views of our Sun yet seen.
A time lapse of the pictures reveal masses of deep orange colored blobs expanding, and jostling among one another, on the surface of our star. These globules are hot balls of plasma rising and falling via the process of convection.
Each blob is, as you can imagine, gigantic, like the size of Texas – the second largest US state by area, and a potential future Register unit at this rate. The plasma is hottest at the center of each of these cells.
The images were captured by the Inouye Solar Telescope in Maui, Hawaii. Equipped with a four-metre-wide mirror to focus the Sun's rays, it's the largest solar telescope yet built on our home world. It has five instruments, chiefly the Visible Broadband Imager, which has a 16-megapixel sensor capable of snapping details as small as 15 miles (24.1km) across on the surface of the Sun.
The National Science Foundation, a US federal agency focused on funding R&D, paid for the telescope, and it is managed by the National Solar Observatory (NSO).
Trying to handle 13 kilowatts of sunlight when pointing the telescope at the Sun is no easy feat. To stop the telescope from overheating and melting, a specialized cooling system transports excess heat away using seven miles of liquid-coolant piping.
The telescope was built to help scientists uncover the mysteries of the Sun's coronal ejections and magnetic fields, and their impacts on space weather. Large outbursts of solar radiation can potentially frazzle satellite systems in orbit around Earth, and take a few days to reach us, so an early warning system that can minimize harm would be useful.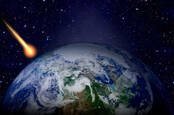 Geoboffins find the oldest matter on Earth: Ancient stardust created before the Solar System formed
READ MORE
"On Earth, we can predict if it is going to rain pretty much anywhere in the world very accurately, and space weather just isn't there yet," said Matt Mountain, president of the Association of Universities for Research in Astronomy, which manages the Inouye Solar Telescope, on Wednesday.
"Our predictions lag behind terrestrial weather by 50 years, if not more. What we need is to grasp the underlying physics behind space weather, and this starts at the Sun, which is what the Inouye Solar Telescope will study over the next decades."
Claire Raftery, head of education, outreach and communication at the NSO told The Register that the images allow scientists to verify theoretical models explaining how the solar atmosphere works.
"In time, [this] will lead to better understanding of what drives space weather events, and then hopefully to more accurate and timely solar storm forecasting," she said. "Having better predictions for space weather is important to our modern, technology-driven society." ®