IBM has been dealt a setback in its effort to limit the commissions it pays salespeople following the revival of a commission-capping lawsuit that had been dismissed.
On Thursday, the US Fourth Circuit Court of Appeals vacated a dismissal granted to IBM in November 2018. The appeals court ruled that the District Court erred when it tossed plaintiff Justin Fessler's claim against Blue Blue over unpaid sales commissions.
"In sum, we find that Fessler adequately alleged sufficient facts to permit a plausible inference that IBM committed fraudulent misrepresentation and constructive fraud," the decision [PDF] this week states.
The case now goes back to the US District Court in Alexandria, Virginia, for written discovery and depositions. Barring a further reversal by IBM, the case will then either go to trial or get settled.
"We are disappointed in the decision but confident that we will ultimately be successful on the merits," an IBM spokesperson told The Register in an email.
In June 2018, Fessler, who at that point had worked at IBM for a decade, filed a lawsuit in the Eastern District of Virginia against the IT titan claiming it denied him at about $400,000 in commission payments for multiple deals.
His complaint [PDF] contends IBM promised in a PowerPoint presentation that earnings would be uncapped. Thus payment of his sales commission – a percentage of the sales price – would be calculated using a fixed percentage and would result in a payout proportional to the value of the deal.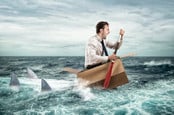 IBM age discrimination lawsuit suddenly ends, suggests Big Blue was willing to pay to avoid discovery process
READ MORE
IBM, however, as multiple former salespeople have alleged in separate lawsuits, has limited or capped payouts through various methods, such as crediting salespeople with less revenue than they actually brought in, to reduce the base value from which their commission payment would be derived.
Big Blue has justified its payment practices by arguing that its Incentive Plan Letters, which it gives to its salespeople spelling out seemingly generous compensation arrangements, are not legally enforceable contracts because they include a disclaimer that says as much. And in the absence of any language limiting the company's payment discretion, IBM has been able to adjust employee commissions downward.
This has been going on for at least a decade and a half, it's claimed. Just within the 2013-2015 period, it's alleged, IBM underpaid its salespeople $40m.
In the two dozen or so cases filed against IBM over commission payments, courts had tended to side with the company. But lately, things haven't been going so well for Big Blue.
Earlier this month, US District Judge William Alsup in San Francisco mostly denied IBM's motion to toss a discrimination and fraud lawsuit over commissions brought by salesperson Jerome Beard. And last October, in a commission fraud case brought by David Swafford, also an IBM salesperson, US District Judge Lucy Koh in San Jose similarly denied an IBM's motion for summary judgment to dismiss the claim.
"This opinion is a critical swing of the pendulum back towards what's reasonable between employers and employees in tech sales," said Matthew E. Lee, a partner at Whitfield Bryson & Mason LLP and one of the attorneys representing Fessler in an email to The Register.
"We were fighting against about 15 years or so of bad law that IBM has leveraged to make promises to sales reps that it never intended to keep. No more. We're very pleased with this result." ®
Similar topics