This article is more than 1 year old
HTC co-founder Peter Chou's new startup picks great time to tease super-social VR headset
But you'll have to convince your mates to part with $599 for 5G-enabled Mova
XRSpace, a startup founded by one-time HTC chief Peter Chou, has announced plans to introduce a new 5G-enabled virtual-reality headset in Q3 of this year.
Dubbed Mova, the effort represents a significant divergence from industry trends, which have emphasised interoperability and relative affordability. Priced at $599, the Mova costs a few more Benjamins than the Oculus Rift S (which launched at $399) and the standalone Oculus Go (which costs $199).
Another weird quirk is its use of hand tracking as a default input mechanism. From a user perspective, this is a huge bonus as there's no controllers to buy, recharge, and eventually lose. But it's also something that hasn't really caught on with vendors due to the relatively imprecise and experimental nature of the technology. The only real outlier is, at the moment, the Oculus Quest, which offers it baked in.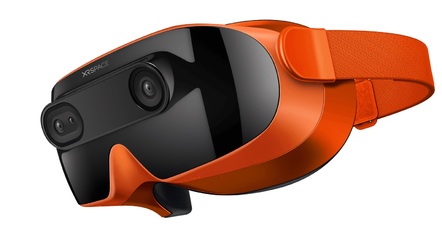 Click to enlarge
With built-in 5G connectivity and a flagship-tier Qualcomm Snapdragon 845 smartphone processor, the Mova is designed with portability in mind. That's a similar punt made by Facebook-owned Oculus, which managed to sell over two million Oculus Go headsets in less than two years – although, to be fair, these were priced well below the XRSpace Mova.
It also makes it a more enticing proposition for the budget-conscious. There's no need to be physically (or wirelessly) tethered to an expensive gaming PC with more computational "oomph" than a Cray. It massively limits the initial cost of ownership.
Then there's the software. Mova launches with its own virtual world, called Manova. While this has drawn comparisons to Second Life, we're not sure that's quite right.
XRSpace has presented Manova as a place for socialisation, where you can watch movies with your friends and take exercise classes. Aesthetically, it looks a bit like The Sims, with attention slathered on making avatars look as realistic as the Snapdragon 845 can possibly muster.
While Second Life devolved into a cesspit of trolling and seediness (look up "Anshe Chung" on YouTube if you're not convinced, although be warned, it's extremely NSFW), it's obvious that XRSpace is trying to capitalise on the wholesome vibe that made Animal Crossing: New Horizons one of the biggest selling video games of 2020.
But if you want to take part, you'll have to buy the Mova. No other headset will do. And that's a bit unusual given the collaborative bent of the contemporary VR space, with HTC telling Vive owners to use Steam's software ecosystem in addition to its own.
So the Mova isn't "yet another VR headset", but rather a stab in a new direction for the industry, and it'll be interesting to see how it pans out, and whether other vendors follow.
They couldn't have picked a better time to launch such a product. With most people toiling under lockdown, there's a growing appetite for VR headsets. If you can't go to the pub, VR lets you bring a cell-shaded version of the pub to you.
But there's a flip side to that, as argued by Leo Gebbie, analyst at CCS Insight. "This new venture enters the market in a period of global economic turmoil as a result of COVID-19 coronavirus. There is little doubt this will make it challenging to sell the XRSpace service," he said.
One saving grace might be network operators looking to find a way to market their new 5G networks to punters, who may offer subsidised Mova headsets as a way to sell or upgrade subscriptions. And Chou has an "in" here. After all, he co-founded and eventually led HTC.
While HTC's presence in the smartphone market borders on irrelevance in 2020, it did win some important industry milestones during its heyday, launching the inaugural Windows Mobile, Android, and 4G handsets (namely the HTC Canary, HTC Dream, and HTC Evo 4G respectively). The majority of these were on Chou's watch, suggesting he has the connections and expertise to get network operators on board. ®