This article is more than 1 year old
Two arrested in Congo after Google Loon mobe balloon meets terra firma more than 1,000km from operating area
No idea what it's doing here, said local governor
Two people were arrested in the Democratic Republic of the Congo (DRC) after the crash of a Google Loon internet connectivity balloon baffled local officials who had no idea the craft was overflying their country.
The balloons pack power and connectivity equipment for Google's African mobile connectivity experiment. Operated by its Loon subsidiary, Google (technically Alphabet, the adtech firm's holding company) aims to cover chunks of Africa with LTE mobile coverage so as to get more people viewing and clicking those lovely, lovely advertisements online and engaged with greater economic opportunities.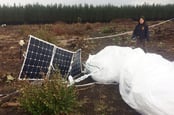 Google Loon balloon crash lands in Chile
READ MORE
Not all seems to be going to plan, however: one of the balloons intended to provide connectivity to Kenya – launched in a deal with pan-African telecoms giant Telkom – crashed approximately 1,090km away from Kenya's westernmost border (and two full countries over) in a DRC town called Buta on 25 August, leaving locals wondering what the hell was going on.
Telkom has no presence in the DRC, whose underdeveloped infrastructure mainly belongs to state-owned telco La Société Congolaise des Postes et Télécommunications (SCPT). SCPT is currently rolling out a fibre-optic national backbone network – with controversial support from China.
"Photos and videos of what is believed to be a wrecked Google Balloon have emerged on social media. The Balloon is said to have fallen near the town of Buta, close to Kisangani, in Bas-Uele, Congo," reported local news website Kahawatungu. The site quoted a local who appeared to have had access to the crash site:
An unidentified flying object fell yesterday near the town of Buta (close to Kisangani) in Bas-Uélé. It looks like a communications equipment. @planet4589 is quoted on InterviewCD saying it's not a satellite. Does anyone know what it is and who it belongs to? #Congo #DRC #Telema pic.twitter.com/NA3f1XvI1H

— kambale (@kambale) August 25, 2020
"Neither Google nor Telkom have issued comments on the crashed balloons," reported Kahawatungu on Tuesday.
Bas-Uele governor Valentin Senga told Reuters after visiting the crash site: "I'm not able to say exactly what kind of device I observed. What intrigues us is that neither the intelligence services nor the local aviation authorities claim to have any information on the overflight of Congolese air space by this aircraft."
The financial newswire reported that two people who travelled to Buta to search for the balloon, a Pakistani and a Congolese national, were arrested by suspicious Congolese authorities. The balloon is said to have been part of a deployment over Kenya carried out with the agreement of that country's government and main mobile phone network.
Google Loon eventually 'fessed up to international media when they asked the same questions as locals: "I can confirm that Loon executed a controlled landing of one of our stratospheric balloons in this region," a Loon spokesman said in a statement to financial newswire Reuters.
The Register has asked Loon for further comment in light of pictures and footage showing the aftermath of the "controlled landing" consisted of smashed equipment distributed across the landscape in the sort of pattern one expects to see after an unscheduled terra firma interface event.
Balloons are reportedly deployed by Loon from a site on the American-territory island of Puerto Rico, close to the British Virgin Islands. The craft consist of an LTE base station and antenna payload, solar panels to power the payload, and a helium-filled polythene envelope. They are intended to be flown at around 65,000ft above the Earth's surface and stay aloft for about 100-120 days. As we reported in 2016, the balloons' LTE gear is intended to provide coverage for an area of about 80km2.
A video of yesterday's crash site posted by locals on Google-owned YouTube was deleted "for violating YouTube's terms of service" as The Register reviewed it at the time of writing.
It seems that while Google is in favour of increased global internet connectivity, it's unable to cope with that connectivity being used to share news that makes the Chocolate Factory blush. ®