This article is more than 1 year old
Bork, Beer and Breweries: Three of our favourite things
The pubs may be problematic, but the bork is bountiful at Tennent's
Bork!Bork!Bork! While we may now be allowed to visit a pub and enjoy a cooling beer, 2020 has not been kind to the hospitality industry, as evidenced by a screen of purest blue stuck on the side of a Tennent's brewery.
The sign, spotted at the pale lager pusher's Glasgow facility by a Register reader the Regomiser has elected to call "James", is clearly having a bad day and has perhaps been shocked BSODwards by an unusual amount of Glaswegian sun.
Far beer it from us to suggest that Windows has come out in sympathy with all the ongoing pandemic chaos. More likely it has responded with the stability of a hack under the influence of a four-pack of Tennent's Super and thrown up a Blue Screen of Death.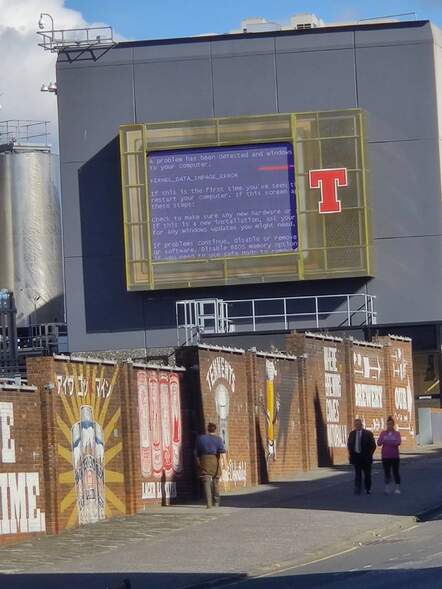 Click to enlarge
Sadly, not enough of the error is visible on the faux television set (replete with giant knobs) to determine what has caused the KERNEL_DATA_INPAGE_ERROR but, according to Microsoft, it occurs when a page of kernel data from the paging file could not be read into memory.
Naturally, the only proper response is for Windows to topple into a heap, in this case smelling vaguely of lager.
Tennent Caledonian is quite the Scottish institution and has been helping Scots keep their minds off the antics going on south of the border for 450 years thanks to a selection of alcoholic beverages, including its eponymous lager and the refreshing Caledonia Best. It is also responsible for the "is-that-a-cider-or-do-I-have-a-bladder-infection" crisp and chilled Magners Irish Cider.
Brewing has occurred on the site of the bork since before the formation of the Tennent's business in 1556, and the Duke Street facility features all the necessities required by what the company calls a "brewing one stop shop."
Sadly, we were unable to book ourselves a behind-the-scenes peek at the whole barley to bottle process, and a pre-recorded cheerful Scottish chap informed us that the visitor's centre was closed. Curse you, 2020, curse you.
As for the sign, in happier 2019 times on Google's Streetview service it can be seen advertising the 74th Annual Outing to Troon. Sadly, 2020's event was cancelled owing to the COVID-19 pandemic; a shame, since the Glasgow Taxi Outing Fund has done much to help young people over the years and "Lockdown To Troon" lacks the same ring.
If Windows vomiting up a bork over the side of a Tennent's brewery amused then maybe a small donation to the charity in lieu of a pint might be in order. ®