Alibaba has announced the initial public offering (IPO) of its financial services arm, Ant Group, and is aiming for the world's biggest-ever float measured by cash raised.
Ant is best known as the operator of Alipay, the payments platform that boasts over a billion active annual users and 80 million monthly active merchants. Alipay processes 100 million or more transactions every day and has claimed it hit 459,000 transactions-per-second in 2019 during China's November 11 shopping frenzy. Ant also operates credit and finance platforms, also at enormous scale.
The company filed for its IPO in July 2020 and has dripped out news of its plans in the months since. Yesterday the final piece of the puzzle was revealed in the form of a filing that spelled out just what's on offer: a dual listing in Shanghai and Hong Kong, with around $34 billion of scrip on offer to the public and institutional shareholders.
If all shares are bought at the asking price - RMB68.80 and HK$80.00 respectively – the company will pull off the biggest IPO of all time. Bigger, even, than the float of petroleum titan Saudi Aramco, which took the biggest-IPO-ever title from Alibaba.
Ant can take the title without selling the whole company: the float would value the entire outfit at over $310 billion.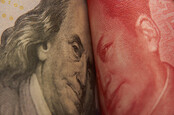 Alibaba's payment service Ant fears being crushed by US bans on China trade
READ MORE
That colossal valuation reflects Ant's dominance of China's payments market and the fact it has quickly become a de fact substitute for cash. Ant has also made investments in similar operations such as India's Paytm and has enormous potential to sell more stuff to its customer base.
A successful IPO would also be a vote of confidence in Ant's ability to survive the US/China trade war and China's introduction of a Digital Yuan along with a plan that seemingly sidelines Alipay by preferring commercial as issuers of wallets rather than letting new payment providers into that market.
Those battles lie in the future. For now, the world awaits the company's first day of trading, expected to be November 5th in Hong Kong. Few expect a flop. ®
Similar topics