This article is more than 1 year old
HPE sees itself 'delivering supercomputing-as-a-service to the masses' as it chucks HPC chops into GreenLake
Hardware infrastructure vendors' obsession with consumption-based tech continues
Hewlett Packard Enterprise (HPE) is to send high-performance computing (HPC) into its everything-as-a-service portfolio, GreenLake.
Requiring an often eye-watering level of commitment, HPC is being used to deal with the ever-increasing amounts of data being generated by enterprises and research facilities. Faced with competition from the likes of HPC on AWS, HPE is moving to sell supercomputing wrapped in a services contract.
The concept is familiar. Rather than have to deal with all that pesky infrastructure (and goodness knows, HPE has had a few issues recently) why not sign up to a fully managed service and enjoy that cloud experience without necessarily being forced cloudwards?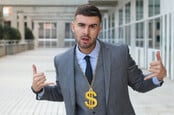 Selling hardware on a pay-per-use or subscription model is a 'lie' created by marketing bods
READ MORE
Taking a cue from GreenLake, the pre-bundled HPC managed service will run from a data centre or colocation environment and be accessed via a self-service portal. Starting with HPE's Apollo systems, customers can select from "small", "medium" or "large" configurations and get their fully managed service in a couple of weeks.
HPE reckons that going down the GreenLake route could speed deployments up by 75 per cent and cut capital expenditures by up to 40 per cent, according to a friendly Forrester Consulting report on the impact of GreenLake.
Keith White, GreenLake senior leader, told El Reg: "The world is hybrid, most of the customers I talk to want a hybrid environment, they want a multi-cloud environment, they're not just locking into a single vendor."
GreenLake has been a glimmer of hope in what has otherwise been a gloomy year for HPE. "Our consumption-based business," said White, "had generated about $585m of our annualised recurring revenue, and this is up 30 per cent."
White went on to predict that the addressable market would hit $22bn by 2023, up from $6bn today and "nearly half of this growth is driven by a select set of workloads, you know, including things like unstructured data management, analytics, engineering applications, high performance computing, app Dev and VDI.
"Think of this as like delivering supercomputing-as-a-service to the masses."
Peter Ungaro, HPE senior vice president and general manager for HPC and Mission Critical Solutions (MCS), chimed in on the hybrid theme, emphasising that "nobody is 100 per cent in their own data centres, almost nobody's 100 per cent in the cloud, it is really a hybrid model."
It is, however, a shift of gears for HPE, which has enjoyed a capex acquisition model over the years. In 2018, HPE decided that within four years its entire portfolio would be made available to buy as-a-service. Back then just 5 per cent of annual sales were transacted in this way.
GreenLake was HPE's response to a changing world, and there is a certain inevitability in the move to a consumption model for HPC with the company's desire to give customers a complete "as-a-service" experience by the year after next.
HPE's channel partners can join in the fun, and the initial pre-bundled products for HPE GreenLake cloud services for HPC will be generally available in spring of 2021. Other technologies, such as Cray-based compute, are due to be added "in the future."
All of the major legacy infrastructure tech vendors have wrapped their arms around the as-a-service model in recent times after seeing their market eroded by the giants of public cloud services.
Cisco confirmed in August it will sell everything in its portfolio in this way.
"I'd say that it's clear that many of our customers do want to consume the technology as a service," CEO Chuck Robbins said at the time, adding: "We're currently looking at the entire portfolio to see how deeply we can get into the portfolio relative to delivering as a service, and I think we'll have a lot of that in the marketplace by the end of the calendar year."
Dell launched its own version of a pay-as-you-go-service, Project Apex, in October, including PCs, servers, storage, networking and more.
However, some customers don't want to buy tech in this way, the Canalys EMEA Channels Forum heard a few months back. Computacenter chief Mike Norris said vendors - he didn't mention names - were "fixated" by pushing customers to consume tech as a service.
Alastair Edwards, chief analyst at the market researcher, said more and more resellers are being pushed in this direction. "This will be a frustration, or at least a worry for many of you in the channel, when lots of your customers are not yet ready to go down this path."
He said infrastructure hardware vendors had seen their grip on the market loosen since the pandemic but there will be a reckoning for cloud vendors.
"[M]any of your customers are going to hit some hard realities with their expanded cloud environments, in terms of cost, complexity and security. And customers are struggling to drive internal adoption and usage even for those services they have invested in.
"We don't believe the market has reached a tipping point for cloud adoption," Edwards said. "In fact, the pendulum is already swinging back towards hybrid IT. Customer investments are opening up once again for their on-premise data centre and infrastructure. But what we do see is that customer expectations of that infrastructure have changed. They want more automation, they want to support greater adoption of multi cloud services, they want to modernise their applications for the cloud." ®