This article is more than 1 year old
Canadian Windows demands a jolly good bit of validating
Somewhere there is always an IT pro who warned this might happen
Bork!Bork!Bork! Are you... genuine? It is a question often asked by software in recent years, and Windows is no exception in today's entry to The Register's hall of bork.
Spotted by reader Glenn Hunt while he was stocking up on groceries on Boxing Day in Canada, the sign seems to imply that perhaps somebody behind the scenes has failed to spring for a full licence for Microsoft's former finest. Or perhaps that Windows is having a bit of a validation wobbly.
We say "former" because that sure as heck doesn't look like Windows 10 to us, although the aero-like chrome on the dialog did give us a tiny twinge of nostalgia, even if the message itself might leave a user with a vague sinking feeling.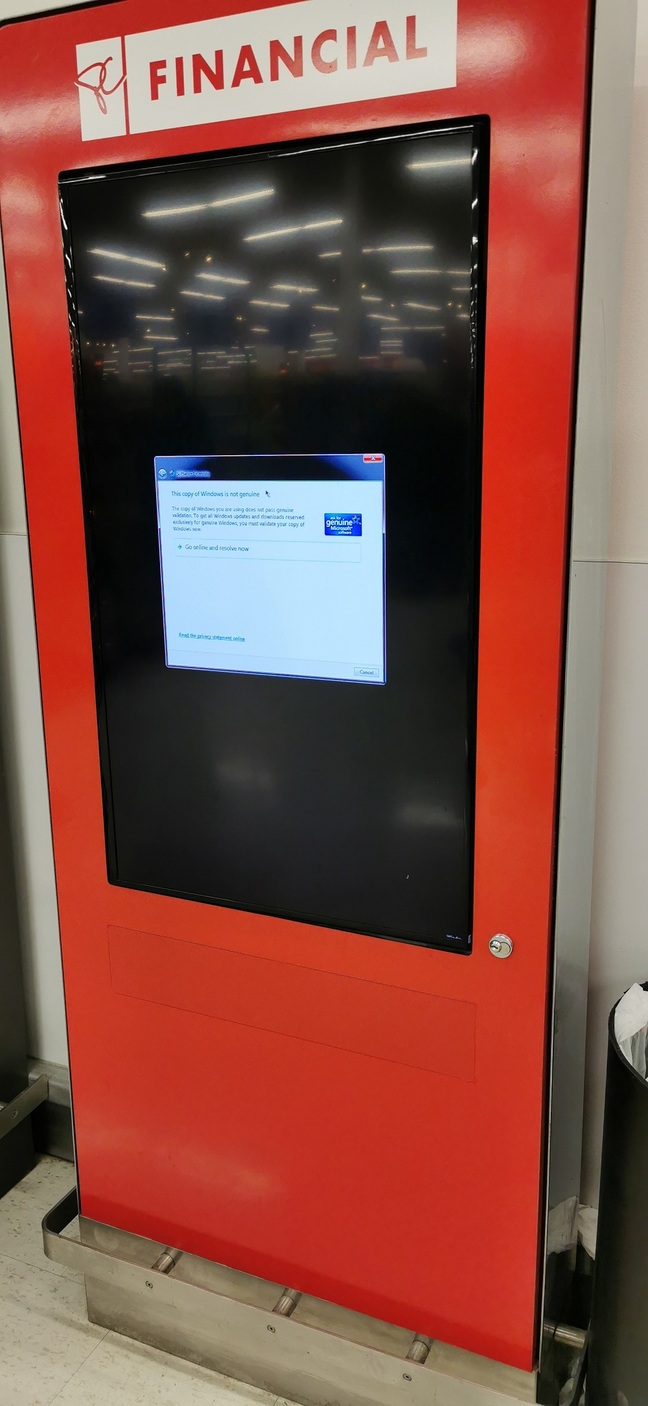 Click to enlarge
Product Activation is an attempt by Microsoft to enforce licence compliance, and pings data such as product keys at Redmond's servers to confirm validity. Depending on the version of the software, there is usually a grace period after which bits of the code might stop working and users are nagged to take action.
As for what has triggered this public protestation, a change of hardware configuration could have upset the applecart or (heaven forbid) somebody might be using a key of iffy origin. After all, it didn't take long for Windows XP's implementation to take a tumble.
The sign itself can be found in the delightful Ontario town of Aurora (motto: "You're in Good Company", although also known as "Canada's Birthday Town" by some). While the content of the sign is of the blackest black, other than that Windows message, the frame implies a relationship to the company President's Choice Financial, serving over three million customers by its own estimates.
We're sure the explanation is an innocent one. After all, with a name like "President's Choice Financial", what could possibly go wrong?
Assuming, of course, the president in question is not the orange-tinged one still lurking south of the Canadian border. Otherwise an old version of Windows whingeing about not being genuine is likely the least of our worries. ®