This article is more than 1 year old
If you want less CGI and more real effects in movies, you may get your wish: Inflatable film studio to orbit Earth
What a retirement for the ISS: Gaining a totally feasible 'state-of-the-art media production capability'
Space Entertainment Enterprise (SEE), a UK-based media company, has commissioned Axiom Space in Texas to build an inflatable space station module for orbital media production.
On Thursday, the media firm, which claims to be working on "the first ever Hollywood motion picture filmed in outer space," reportedly involving Tom Cruise, said it has hired Axiom Space to create SEE-1.
SEE-1 is envisioned as a media production module that will "allow artists, producers, and creatives to develop, produce, record, and live stream content which maximizes the Space Station's low-orbit microgravity environment, including films, television, music and sports events."
In illustrations, it looks like a giant ping-pong ball affixed to the International Space Station. Its expected diameter, according to Axiom Space, will be about six metres or 20 feet.
The space station add-on is scheduled to be launched into orbit in late 2024 where it will dock with Axiom Station, a commercial space module that should be connected to the International Space Station's Harmony node as soon as two years from now.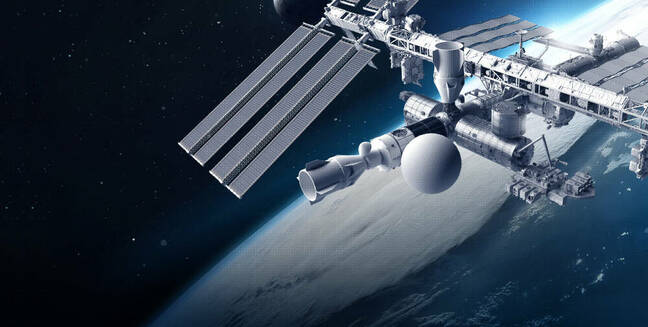 What the SEE-1 may look like attached to the ISS ... Source: SEE. Click to enlarge
"Scheduled" may be an optimistic way of putting it as funding efforts remain ongoing – SEE, co-founded by Elena and Dmitry Lesnevsky, says it's still working with investors and commercial partners on the project. Among its partners, consultants, and advisors, the firm cites former execs from HBO, Endemol Shine UK, and Viacom, as well as New York investment back GH Partners.
And quite a bit of funding will be needed to haul actors into space and house them there. Even at the 2019 estimated cost of the SpaceX Falcon 9 – $2,720 per kilogram – that's more than $200,000 per average weight US adult. SpaceX currently offers to put a satellite into heliosynchronous orbit for a price of $1m for 200kg, and $5,000 per kilogram of additional mass.
Then there's the daily cost of staying on the ISS – $88,000 to $164,000 per person per day when last we checked. Those costs are likely to decline over time and as private companies take over operations – say goodbye to legroom and prepare to be nickel-and-dimed for amenities like oxygen – but even so you could buy a lot of special effects at those prices, without the logistical complications, risk, and insurance.
"SEE-1 is an incredible opportunity for humanity to move into a different realm and start an exciting new chapter in space," said Dmitry and Elena Lesnevsky in a statement [PDF]. "It will provide a unique, and accessible home for boundless entertainment possibilities in a venue packed with innovative infrastructure which will unleash a new world of creativity."
The future of space is commercial
According to Axiom, the space balloon studio will account for about one fifth of the volume of the Axiom Station, which will be connected to the ISS until around 2028, when the ISS is expected to be retired.
"Axiom Station, the world's first commercial space station, is designed as the foundational infrastructure enabling a diverse economy in orbit," said Michael Suffredini, president and CEO of Axiom, in a statement.
"Adding a dedicated entertainment venue to Axiom Station's commercial capabilities in the form of SEE-1 will expand the station's utility as a platform for a global user base and highlight the range of opportunities the new space economy offers."
Axiom chief engineer Michael Baine describes SEE-1 as a way to both showcase and utilize the unique nature of the space environment.
"The inflatable module design provides for around six meters diameter of unobstructed pressurized volume, which can be adapted to a range of activities – including an onboard state-of-the-art media production capability that will capture and convey the experience of weightlessness with breathtaking impact," he said in a statement.
Axiom Space hopes to launch its Ax1 mission – the first private mission to the ISS and a precursor to the deployment of Axiom Station – on March 31, 2022.
In a phone interview, Brick Price, owner of WonderWorks, a Canoga Park, California-based design and production service company that helps clients like Disney, Lockheed Martin, NASA, and SpaceX, and LucasFilm with space-oriented props and production, expressed enthusiasm for the project but skepticism about its cost-effectiveness.
"It's incredibly expensive to get into space," he told The Register, "That's the main hurdle."
Price said production companies can simulate weightlessness quite well. "I don't know that I see any benefit in it – being up there," he said, while emphasizing that he's not privy to the details of the project.
Nonetheless, he described himself and his firm as cheerleaders for NASA and said it's incredible that he's likely to see people land on Mars in his lifetime. He said it's wonderful that SEE and Axiom Space are undertaking this project because that's how technology advances.
"We're fake space, we're not the real thing," said Price. "The best thing about this is it's real."
Certainly that's what investors are hoping. ®