Alibaba Cloud goes even more serverless as it tries to become a utility
Laptop-shaped thin client tied to DaaS also illustrates the concept, and its downsides
Alibaba Cloud has kicked off its annual Apsara conference by declaring an ambition to become a "computility" – a service that provides an endless stream of computational resource that users can consume as if it were electricity.
Speakers at the cloudy concern's keynote address described a future in which clouds aren't tied to boring old constructs like representations of different virtual or physical machines. Instead, future customers will pay as they go for computing services that are measured with metrics akin to kilowatts of power.
Execs spoke of developing a metric to measure the efficacy of a datacenter so that customers can understand what they're buying – suggesting that processing power and latency could serve as the basis for such measurements.
For now, Alibaba Cloud's expression of that idea is to make more of its current cloudy SaaS products serverless. The cloudmaker said it has already made 20 of its services serverless and plans to convert more of its offerings to the same mode of operation.
Another example of its ambitions is the Wuying Cloudbook – a thin client that connects to desktops-as-a–service (DaaS) hosted in the Alibaba Cloud. An accompanying Wuying Architecture pipes your preferred apps and approved data into the DaaS rigs you rent. A demo of the Architecture showed Microsoft and Adobe apps accessed from a Cloudbook — Alibaba Cloud promised it's talking to all the software vendors that matter, with a view to ensuring their wares are available as-a-servive.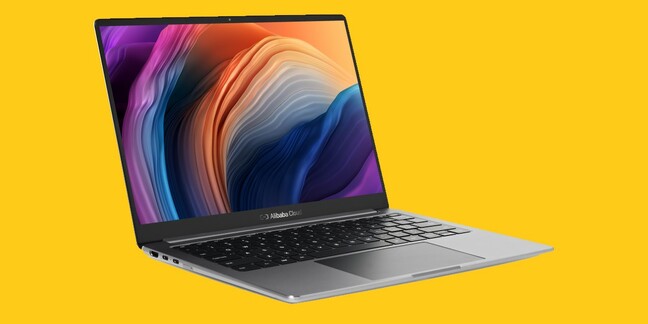 Alibaba Cloud's Wuying Cloudbook – Click to enlarge
The demo video also purported to show a Cloudbook user tweaking settings in Alibaba Cloud to alter the specs of the cloudy computer they accessed through the laptop. The vid claimed the device can access Windows, Linux, and Android all at once.
The Wuying Architecture is tied to Alibaba Cloud's Elastic Desktop Service (EDS), which is available in its Hong Kong, Singapore, Australia, UK, the Philippines, Japan and Middle East regions. The Register asked what the Cloudbook costs and in where it will be sold, and Alibaba Cloud replied that prices are yet to be determined – but did not answer the question of where.
Previously, however, Alibaba Cloud has been slow to offer its DaaS client devices outside China. The palm-sized Wuying desktop device, for instance, is only offered on the mainland and Singapore.
Alibaba Cloud also used its big day to reveal improved AI models. One, named Tongyi, does the DALL·E trick of turning text into images with five billion parameters. Another model, One-For-All, uses six billion parameters to handle chores including image captioning. ®