It's a delight to use. Main option icons are lined up on either side of the viewfinder display - tapping them pulls up a further set of large icons in the centre, with labels to make choosing the right one easy. There are plenty of pre-sets and for scenes and different lighting situations, plus various autofocus options, including a macro mode for close-ups and face detection. Both are useful, with the macro shot option yielding excellent results.
There's no touch-the-screen-to-focus option as there is on the Renoir, but you do get a smile-detection option: when you press the shutter, it only snaps when it spots a smile. Similarly, you can eliminate unwanted shut eyes in subjects. These aids work well, though they aren't infallible.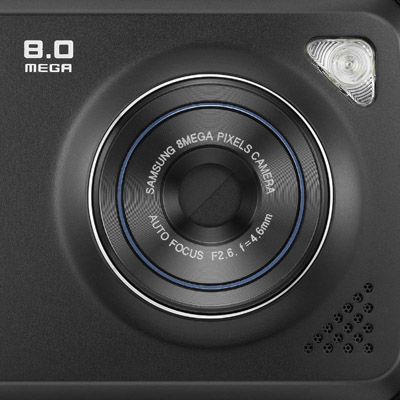 the camera array has an automatic lens cover, rather than the LG Renoir slide-control type
Image quality is extremely impressive on this device. It's capable of capturing very high quality shots for a mobile phone, with excellent detail and lovely colour rendition – accurate and vibrant, with decent exposure control and contrast.
Auto settings work very well, ensuring the majority of our shots looked good without much effort from us. We were taken with the indoor shooting capabilities too – it does a fine job at adjusting to lighting conditions. The dual-LED flash does a decent job at throwing light onto scenes without overwhelming subjects, helping get reasonable shots in dim conditions.
Other features include a way to link people in shots to previously entered phonebook entries, plus a typically lavish array of frames, effects and tweaks, and editing options. Samsung has again provided a clever Panorama mode which utilises the accelerometer for framing and stitching together a series of continuous shots.
An anti-shake setting is also available, plus there's Wide Dynamic Range shooting for tricky lighting situations, and ISO adjustment among the options. Pictures can be geo-tagged, so that you can see where shots were taken on suitable mapping applications and online services.
Similar topics
Narrower topics