Apple unveils 17in MacBook, iLife tweaks, Tony Bennett
Jobs-free keynote fails to inspire
Macworld Expo In one of the least eventful keynote speeches in recent memory, Apple's SVP Phil Schiller, filling in for the ailing Steve Jobs, announced upgrades to iLife and iWork, an upgraded 17-inch MacBook, and iTunes Store pricing-structure changes and DRM-removal plans.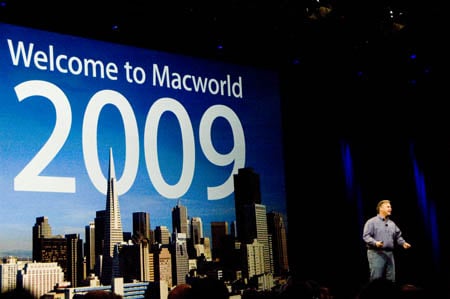 A performer is only as good as his material - but Phil Schiller rose to the occasion
It's hard to fault Schiller for the lack of excitement. In fact, he did a commendable job of turning a mere series of upgrades into a crowd-pleasing event - or, rather, a crowd-satisfying event.
To be fair, iLife '09, iWork '09, and the new 17-inch MacBook Pro are solid - if not earth-shattering - upgrades, and the iTunes news was welcome - if a bit short on details. It's just that after all the rumors of an upgraded Mac mini, media server, tablet Mac, or possibly just Steve Jobs dropping by to say "howdy," the event was a bit of a letdown.
iLife '09
Of the five iLife '09 apps - iPhoto, iMovie, GarageBand, iWeb, and iDVD - iPhoto received the most new goodies.
Face-detection technology is now built into iLife's photo organizer, editor, and slideshow producer, allowing it to perform a few new tricks, such as organizing photos into a "Faces" library that groups photos by the people appearing in them. Face detection is also used to center thumbnails of photos on a face and to auto-crop images for slideshows or printed books.
A new "Places" library is organized by GPS geo-tagging metadata embedded in each image by GPS-enabled cameras. If your camera is not so enabled, an included database of thousands of place names eases your chore of manually assigning places to them. Google-supplied maps - with both street and satellite views - display pins that mark and access place-related groupings of photos.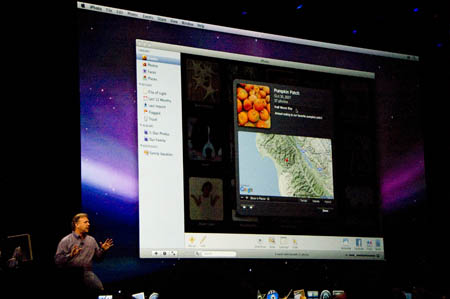 iPhoto's Places blends Google maps with GPS geotagging
Slideshows can now be created with canned themes and can use face-detection to center and crop photos to emphasize the faces of folks in them. iPhoto's photobook printing service can also center and crop using the same technology.
When the completely rewritten iMovie '08 was introduced last year, many users missed the more-precise control offered by its previous version. According to Schiller, their complaints were a major reason for the upgrades in iMovie '09.
New is a "Precision Editor" that returns much of the missing, well, precision. It's now possible, for example, to easily and precisely cut audio from one clip and paste it over another or to extend one clip's audio into the next clip.
Other new features include a two-step image-stabilization function, a library of new effects, an enhanced clip inspector, animated map routes in 2D and 3D (cue the '30s film-noir opening credits), and more.
GarageBand's marquee new feature - and new revenue stream for Apple - is its "Learn to Play" mode, in which basic keyboard and guitar lessons are presented in an HD video of a teacher above an animated keyboard or guitar fretboard displaying finger positions. GarageBand includes nine keyboard and nine guitar lessons that you'll need to download - but these first lessons are free.
The revenue stream comes from a new series of dowloadable $4.99 "Artist Lessons," in which famous, semi-famous, and who-the-hell-is-that-guy? artists teach you their chops and reminisce about the inspiration for the songs they're demonstrating. The first round of artists will include Sting, Patrick Stump, John Fogarty, Sarah McLachlan, Norah Jones, and more. According to Schiller, Apple will "continue to add more and more."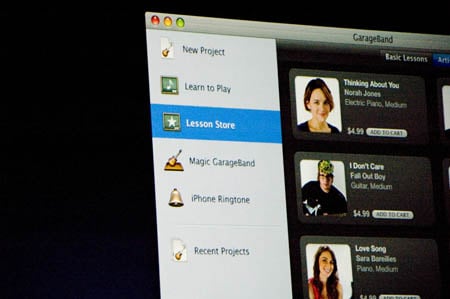 GarageBand's Lesson Store opens up a new $4.99-a-pop revenue stream for Apple
No upgrade information about iWeb and iDVD was provided.
When it ships in late January, iLife '09 will appear on all new Macs and cost $79 as a boxed "upgrade." A five-Mac "family pack" will be available for $99.