Nikon D5000 digital SLR
Satisfying stills with HD thrown in
In terms of features, you get both JPEG and RAW (NEF format) shooting options with a top resolution of 4288 x 2848 down to 2144 x 1424. The D5000 has an image sensor cleaning system, EXPEED image processing, shutter speed range 1/4000-30 sec plus bulb and ISO range of 200-3200, with the option of extending this to the equivalent of 100-6400. Note that the ISO extension system uses image processing to achieve this effect.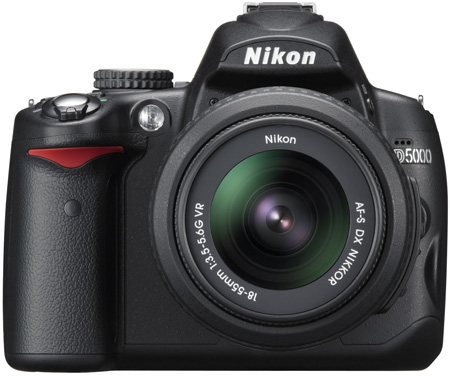 HD recording is at 24f/s and at 720p
HD video recording (Motion JPEG AVI) offers 1280 x 720 resolution at 24fps, and VGA and QVGA recording options are also available. You can make your own film animations using a stop motion movie function, which lets you select the image size from VGA to 160 x120 and frame rate between 3 to 15fps.
Other features include evaluative (aka 3D colour matrix), centre-weighted and spot metering, Active D-Lighting for improving contrast, nineteen scene modes and six picture control settings, such as vivid and monochrome.
There a plenty of in-camera editing features too, including the ability to convert RAW to JPEG files, plus trimming, red eye reduction, fisheye effect and colour outline – which makes your image look like a line drawing. Oh, and Nikon kindly provides a full paper manual with an excellent index and a software CD-Rom which includes Nikon Transfer. Use this for moving images from camera or media to your PC, and to view JPEG and NEF files, use ViewNX, which also offers adjustments, such as white balance or sharpness.
When it comes to handling, the D5000 is a fair old size and weight, measuring 127 x 104 x 80mm and weighing around 800 grams when loaded up with the kit's 18-55mm lens, card and battery – the body alone weighs 560 grams. But then again, that does mean you've got plenty to grab hold of. Despite the bulk, the D5000 is comfortable to hold and the main controls are close at hand.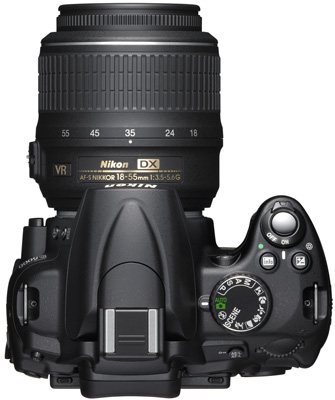 Appears bulky but is actually quite comfortable
The sensor cleaning system causes a slight delay on start-up, but the D5000 can fire off its first frame in less than two seconds. You can disable the sensor cleaning function, but we didn't see a great reduction in start-up time when we tried this. The usual PASM modes, plus movie and scene modes can be quickly accessed via the mode dial.