This article is more than 1 year old
Seagate Barracuda XT 2TB Sata 3.0 HDD
The first hard drive with the new bus standard
There's an irony that we have to resort to using the HD Tach burst speed results as this is a figure that we stopped using in our reviews of SSD drives. The fastest SSDs have a burst speed of 250MB/s. The slower 128GB Kingston SSDNow V has a burst speed of a mere 125MB/s yet it is no slouch. We have previously concluded that burst speed gives little indication about the ultimate performance of a drive yet this is exactly where Sata 3.0 has an effect with the Barracuda XT.
Iometer Results
With SSD Data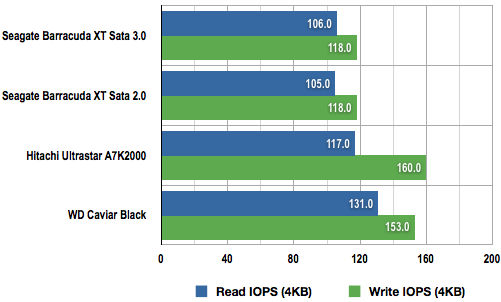 Without SSD Data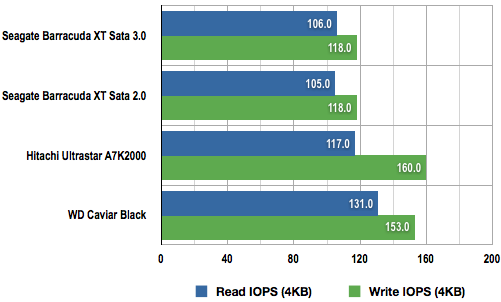 I/O Operations per Second
Longer bars are better
Strip out the 6Gb/s feature and the underlying performance of the Barracuda XT puts it head-to-head with the Hitachi Ultrastar. This makes the Seagate look rather expensive and relatively unattractive.
But if a 7200rpm hard drive seems to be incapable of stretching Sata 2.0 to the limit, SSD is a different story and we are keen to see the first solid-state drive with a Sata 3.0 interface.
Verdict
Seagate's Barracuda XT may be the first hard drive to use the new 6Gb/s Sata 3.0 interface, but the new technology doesn't deliver any obvious benefit. Two terabytes of storage is welcome, but Seagate is charging a very high price. There are cheaper - and more quiet - drives out there. ®
More HDD Reviews...

Toshiba
MK6465GSX

Hitachi
Ultrastar
A7K2000

WD Caviar
Black

WD Caviar
Green

Seagate Barracuda XT 2TB Sata 3.0 HDD
Yes, it has Sata 3.0, but this Seagate gets little benefit from it - and is expensive, to boot.