The system packs a decent punch both in terms of the CPU and the GPU although it doesn't match the sort of punch you get from a Core i5. The difference is that AMD doesn't support Hyper Threading and, as a result, it suffers in certain benchmark tests. In the real world this doesn't have as much of an effect as the benchmarks suggest, as quad-core CPUs play little part in gaming and hexa-cores spend a large part of their life waiting for work to keep them busy.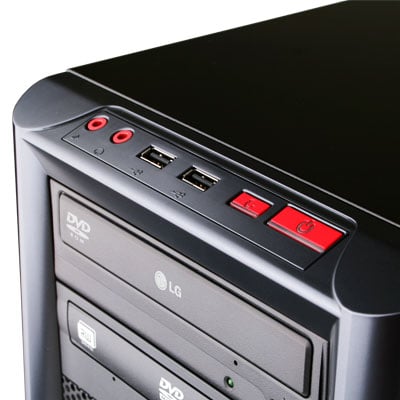 Plenty of grunt with decent graphics too
The exception to this rule of thumb is CPU intensive work such as video rendering that uses all the CPU you can throw at the problem. In essence the Ultra Scylla delivers a huge amount of CPU power with a decent graphics card, plenty of memory and a sizeable hard drive. The extra clock speed is indeed a bonus and it's backed up by competent peripherals, all at a very fair price.
Verdict
The array of red LEDs used in the case of the Ultra Scylla are a bit visually overwhelming but the hardware has been carefully chosen to deliver a hefty punch along with decent value for money. ®
More Desktop PC Reviews…

Gateway
DS50
HP
Pavilion Elite
HPE-180
YoYoTech
Warbird
i750CX
Group Test
Mini Desktop PCs

Cyberpower Ultra Scylla six-core AMD PC
AMD Phenom II X6 power allied to a Radeon HD 5770 GPU with peripherals to boot.
Similar topics