RIM PlayBook price cut specials become standard
New low price... for now?
---

The massive reductions RIM has made to the price of its BlackBerry PlayBook tablet are no longer one-offs but appear to have become the norm.
RIM's own online shop now lists the 16GB PlayBook at the "new low price" of $199 (£125) and, as Lilliputing notes, the site no longer refers to the reduction as a special promotional offer.
The 32GB model now costs $249 (£156), the 64GB PlayBook $299 (£188).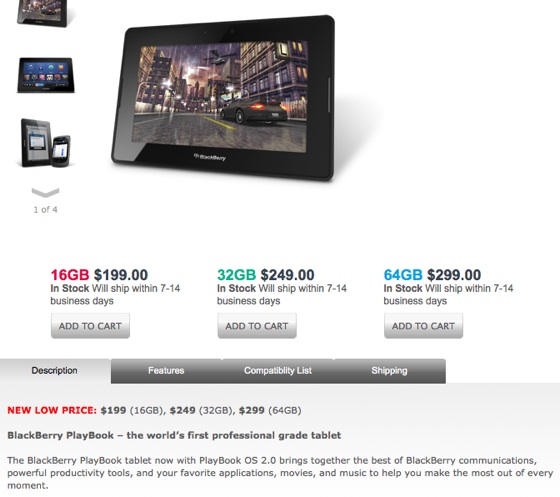 Over here, retailers like PC World are still listing the three PlayBooks' official prices as £399, £479 and £559, respectively, though it's actually charging £169, £199 and £249 - slightly more than the US price plus VAT.
RIM's own UK store still lists the old official prices too, but then the UK does tend to trail the US in such matters. The most recent reductions were implemented in the States in 2011, but weren't made over here until January.
RIM updated the PlayBook OS to version 2.0, a precursor to new PlayBook models: a 10in version for Christmas, but an updated 7in model for April. Perhaps the latter explains the new formal price structure. ®
Similar topics
Narrower topics