This article is more than 1 year old
Windows 8: Thrown into a multi-tasking mosh pit
Ribbon rescue rope too slippery to climb
Sysadmin blog Does Windows 8 improve upon Windows 7 for the use cases that my real world customers and users demonstrate? After a week of tinkering with the consumer preview, the answer is far from simple.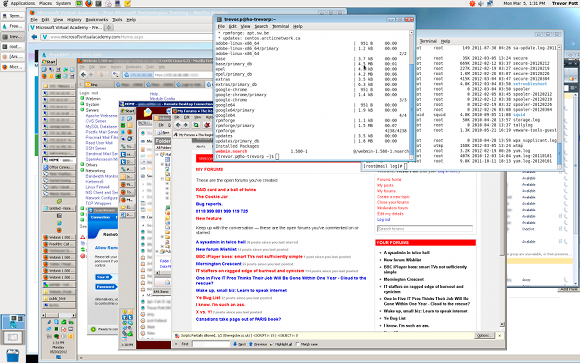 Now that's what I call multitasking (click to enlarge)...
First up is the ribbon. For new users to a product, my experience correlates with the official Microsoft stance. The ribbon increases discoverability of the most common features. For power users who have had the menu + toolbar system burned into our muscle memory, the ribbon is often considered to be less than optimal.
The proliferation of the ribbon into many next-generation Microsoft software products demonstrates that those of us who dislike it have zero avenues of appeal. Still, the ribbon is at worst a minor irritation; alternatives do exist, and power users can work around it.
Metro Start is another item to consider. As an application finder, Metro Start is fine. It does the job, and frankly it's less irritating than the start-menu-in-a-box introduced in Vista. Unfortunately, the traditional Start Menu was more than just an application search.
The Start Menu contained a search box that doubled as the "run" command, something I use on a regular basis. Often I do so while looking at a browser to find out which obscure command I have to enter. In a Metro Start world, the option presented is to use the "windows key + r" to bring up the run box. This is an unacceptable kludge to me.
Win + r doesn't work well when you are nested several remote sessions (with differing remote protocols) deep – a daily support reality for me. It's certainly a pain to use from the RDP client on my phone, a support option I am increasingly reliant upon in today's mobile world. Additionally, not all of us have a Windows key on our keyboards to begin with.
The classic Start Menu could also be configured as a greatly expanded "recent documents" list. Pin your favorite programs to the Start Menu, and their jump lists would provide you a series of application-specific recent document lists that proved quite handy. I have yet to convince Metro Start to provide similar functionality.
Unfortunately, the take home message is that the people who will find themselves affected by this are simply afraid of change, their numbers small enough to constitute a rounding error. Microsoft is not losing sleep over us.
Metro apps are another matter entirely. Here there be dragons. The word is in, and it comes from on high. Metro Apps are designed to be full screen, or (at best) run in a 2-up, 33/67, side-by-side mode. The classic desktop (with all its applications) will be treated as just another metro app, and it is apparently all for our own good.
I run dozens of applications – hundreds of individual windows and tabs – at the same time. I couldn't do my job without the ability to multitask, compare multiple windows side by side and tile windows such that I can check on the status of a dozen things "at a glance" by looking at layered title bars.
I create dozens of documents every day, edit websites, and am at any given time in the middle of several research projects involving hundreds of open browser tabs. I have instant messengers and phone applications; Dropbox, Teamdrive, email, file browsers and command lines; Photoshop; Visio; and $deity only knows what else. These applications are open (and frequently being used) pretty much perpetually.
I do this because several multi-billion dollar companies spent the past few decades creating "personal computers." They created multitasking operating systems which allowed multiple applications to be run in a "windowed" environment. As the power and capability of the systems at my disposal grew, so did my ability to multitask.
Over two decades of my life have been spent honing the ability to multitask beyond skill, beyond experience, into instinct. After over 20 years of working this way, Metro's "one thing at a time" approach is ruinous.
Even worse are the information density issues that make Metro apps less useful than their classic brethren.
Pick up an Asus Transformer and you know what the future according to Microsoft works like. You can switch between full screen apps in a nearly identical fashion to Metro. You have an Apps drawer that behaves in a very similar fashion to Metro Start. It is a truly exceptional way of consuming content, and the Windows 8 Metro experience promises to be significantly superior.
Sadly, for anyone who falls into the categories of "multitasker," "power user," or "content creator" the Windows 8 client operating system may well end up unfit for purpose.
It doesn't have to be this way. There are alternatives to Microsoft's current approach. Even Android is seeing a demand for multitasking, with Ixonos and Wind River separately bringing application windowing to the platform.
With Windows 8, Microsoft is demonstrating their belief that we are on the cusp of a paradigm shift in computing. If so, many of us many find that it is one we are unable to adapt to. ®