This article is more than 1 year old
Microsoft unveils fondle-ready keyboards, mice
Aping Apple with custom kit for Surface slabs
Offering the latest evidence that Microsoft is moving toward an Apple-like integrated product strategy, on Monday Redmond announced a new collection of keyboards and mice that cater not just to Windows 8's spare aesthetic, but also to the design of Microsoft's upcoming Surface tablets.
The new devices, which Microsoft says will ship in the coming weeks and months leading up to the release of Windows 8, are notable in that they hit all of Redmond's current talking points, including minimalist design, mobility, and touch sensitivity.
All four of the new input devices connect via BlueTooth, which Microsoft says is important for modern thin and light laptop PCs, which are shipping with fewer USB ports.
The Sculpt Mobile Keyboard and the Sculpt Touch mouse, though modern, are the most mundane of the new offerings. They sport gradual curves and familiar form factors, and although they are sized for mobility, they're designed to be equally suitable for desktop use. The Sculpt Touch mouse includes a four-way scrolling strip to help users navigate Windows 8's Metro start screen.
More intriguing are the Wedge Mobile Keyboard and Wedge Touch Mouse, which are products of the more radical kind of industrial design one usually associates with Apple.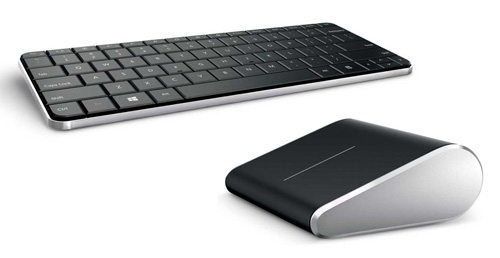 The Wedge keyboard and mouse: Apple? What Apple? Never 'eard of 'em.
The Wedge Mobile Keyboard is thin, small, lightweight, and clearly designed for portability. It even includes a cover to protect it while in transit, and in case you had any doubts about its target market, the cover doubles as a tablet stand while the keyboard is in use.
The Wedge Touch Mouse is the wackiest design of the bunch, eschewing the traditional egg-like mouse shape in favor of a chunky, silver and black doorstop that Microsoft says is small enough to fit in your pocket. It includes BlueTrack technology that allows it to be used on any surface, from a coffee shop counter to the arm of your sofa, plus the same four-way touch scrolling as the Sculpt Touch Mouse.
The fact that these devices will ship before Windows 8 means Redmond wants them in stores to coincide with the launch of its Surface line of tablet devices. According to Microsoft's latest SEC filing, that will happen on Friday, October 26, 2012 – the same day as the Windows 8 rollout.
It also points to a growing emphasis within Microsoft on marketing unique, Redmond-branded hardware to complement the Windows experience. In that same SEC earnings report, Microsoft describes the Surface devices as "vertically-integrated hardware products" and warns that they will compete directly with similar offerings from its OEM partners.
Also on Monday, Microsoft announced that it had completed its acquisition of touchable display maker Perceptive Pixel. Oddly, however, the Perceptive Pixel team will not be joining Microsoft Hardware, but the Office division.
All of this certainly suggests Microsoft is taking a page from Apple's playbook, but whether it will truly be able to follow in the iDevice maker's fruity footsteps remains to be seen. If Microsoft is to succeed at this new, vertically integrated strategy, much depends on how customers respond to Windows 8. To hear some pundits tell it, the forecast is not good. ®