Furious Stephen Fry blasts 'evil' Reg and 'TW*T' Orlowski
'I'm NOT upset. Anyway I've got more Twitter followers. HA'
Official British National Treasure Stephen Fry has responded to El Reg teasing last week with an emotional defence of his TV voice-over work, in two impassioned audio burps this weekend.
"It doesn't upset me," Fry insists. "I am a voice-over artist, I have read every one of the Harry Potter novels - and I'm proud to have done so, and I'm proud to have done so for advertisements."
"And I'm proud to have a few more followers on Twitter than you, Mr Orlowski," he concluded.
In an an earlier audio-burp, Fry had also declared:
"This is frankly, evil". And, "The Register, whatever that is, the magazine - Register dot co dot uk - exists merely to be nasty."
Fry was scathing on the grammar in this story, and repeatedly stressed that it had not upset him.
However, he didn't seem entirely unruffled, calling your correspondent a "Twat" and The Register "cruel and vicious" during a series of Tweets, which also referred to a Mr "Orlowsky".
Fry didn't dispute the facts in the article, which highlighted the way, in an earlier audio-burp, he had mangled British computer history.
A few years ago, El Reg used to run a regular reader competition called "FryDay". Readers were invited to submit fabulously inaccurate technical explanations in the style of the Great Man. It was inspired by Fry's real-world efforts in this line, which, when unscripted, can be very strange indeed. Mr Fry once explained on the panel show QI XL how GPS works, saying:
You send a signal from your GPS device ... You've got to be at least three, usually four or five satellites – that receive your signal. And the difference in time it takes to get from one satellite to the other to the other, which is milliseconds, allows them to calculate your position to within 10 metres ...
He also had a go at describing TCP/IP on the same occasion:
Any email or transaction on the internet uses what's called packet-switching, which means the information is broken up into packets, and reassembled on the other side ... But each side has to be exactly synchronised, otherwise the message is nonsense. So the caesium atomic clocks are necessary to make all this technology work.
Which fairly conclusively established Mr Fry's lack of tech cred. FryDay themes included How Christmas Tree Lights Work, How TV works, and how How Lightbulbs Work.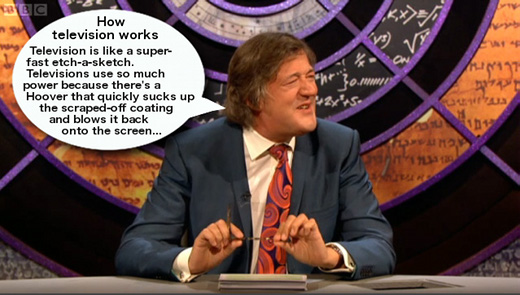 We haven't run a FryDay for a long time - reckoning that the point had been adequately made … and that in any case, there's enough Stephen Fry in your lives already. The ubiquitous thespedian appeared 189 times on British TV in two weeks over Christmas - not including voice overs.
Followers of computer science lecturer and Twitter celebrity Dr Sue!! Black ;-) also dubbed us "misogynistic", we having brought up her uncritical endorsement of Fry's mangled Turing history. Other Twitterati detected no misogynistic intent in the piece, but noted the author of the offending article was in possession of a penis - which may be the same thing.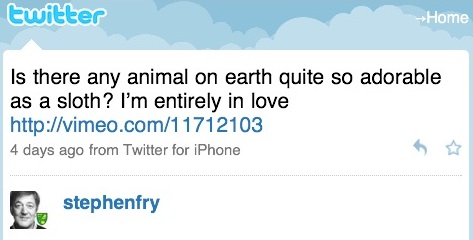 But this is just an ordinary day at The Register nonetheless. The only difference is that today we are being pelted with abuse by unusually famous readers. ®
Bootnotes
Cruel and vicious is a matter of opinion - we prefer "playful", but it's fair comment. "Unkind" seems a bit superfluous or even irrelevant when one is already cruel and vicious, though. It's like being accused of genocide, and at the same time, of having bad table manners.
Also, just in case you've dropped in from somewhere else, GPS receivers simply pick up the timing signals transmitted by the satellites in orbit and calculate their own position using them. A receiver does not transmit any signals to the spacecraft, nor does the process involve any relaying of signals from satellite to satellite.
And no, the internet is not dependent on exactly synchronised atomic clocks to work, nor for email to get through.