This article is more than 1 year old
Delia and the Doctor: How to cook up a tune for a Time Lord
Making music from broadcast test equipment the Radiophonic Workshop way
Doctor Who @ 50 As a theme tune, Ron Grainer's music for Doctor Who needs no introduction. But to describe this unique piece of electronic music as solely Ron Grainer's composition would be a disservice to the considerable musical contribution made by Delia Derbyshire, who in 1963 set about realising the original score at the BBC's Radiophonic Workshop.
Derbyshire's interpretation of Grainer's theme had the composer himself questioning his ownership of the piece. The story goes that he asked her, "Did I write that?" to which she replied, "Some of it." Grainer was expecting a band to have performed his signature tune for Doctor Who. Instead, he heard the distinctive rhythmic canter, haunting melody and menacing hiss – sounds that evoke a sense of mystery and suspense – top and tail each episode.
Grainer's initial reaction wasn't necessarily that unusual. All those involved at the Radiophonic Workshop were avidly experimenting with sound, with a great deal of their endeavour focused on creating atmospheres to enhance radio and television productions. It wasn't all just quirky sound effects for The Goon Show.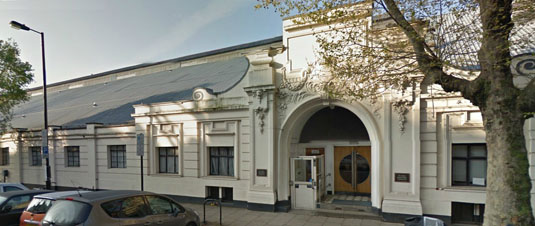 Mildewed wedding cake, anyone? The BBC's Maida Vale Studios
Source: Google Street View
The BBC's Maida Vale Studio complex in West London was home to the Radiophonic Workshop, which officially came into existence on 1 April 1958, due in no small part to the persistence of Desmond Briscoe and Daphne Oram, both BBC staffers with a passion for electronic music. Along with other colleagues, they'd been working independently on various commissions and desperately needed an in-house facility to focus their efforts.
Apparently grudgingly, Room 13 was given up for this work at Maida Vale, a former Edwardian roller skating venue, its deteriorating Stucco exterior decor earning the infamous description of being like "a mildewed wedding cake". Additional workspace was granted (2800ft in total) for what was to become a sandbox for sonic discovery, where these enthusiastic sound artists of their age could work without the restraints of following production protocols. Here, breaking the rules was a matter of course and this was exactly what Delia Derbyshire was drawn to.
Visual records
Before her request for reassignment to the Radiophonic Workshop was permitted in April 1962, Derbyshire had been working at the BBC on the classical music programme Record Review – it's still going today, though retitled CD Review. As its title implies, it was a show where critics would mull over the latest releases and extracts would be played.
In a 1999 Surface magazine interview, Derbyshire described the work and how one of her many unique talents was able to shine: "One of the music critics would say, 'Look, it's on this side of the LP. I don't know where it is, but it's where the trombones come in.' And I'd just hold it up to the light and see the trombones and put the needle down exactly where it was. And they thought it was magic. So a brilliant instinct I must have had. I was appreciated the short time I was a studio manager."
While both Oram and Derbyshire are now recognised as pioneers in electronic music, undoubtedly the cachet of Derbyshire's association with the cult of Doctor Who has given greater exposure to her work, albeit retrospectively.
Delia Derbyshire did receive a little direction regarding the fashioning of Ron Grainer's theme. In Sculptress of Sound, Derbyshire remarks on her commission:
"The first producer of Doctor Who, Verity Lambert, said she had in her mind Les Sculptures Sonores and this group from Paris [Jacques Lasry and Bernard Baschet].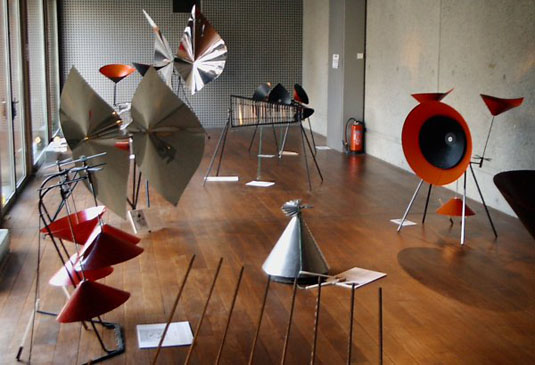 More than sculptures or instruments: Lasry-Baschet Sound Structures concept art
"Their music sounded really electronic but in fact they were all acoustic instruments and – because the Radiophonic Workshop was a bit 'below the line' cost – she came to the Radiophonic Workshop and the boss recommended Ron Grainer because he'd done something called Giants of Steam. Ron saw the provisional titles, as usual – something like a black and white negative – and he took the timings and went away and wrote the score."
Derbyshire's Soundhouse interview in 1999 explains her transition from playing records to making them. "I was really happy as a studio manager until I realised that I could move to the Workshop, and before I had even finished asking my boss for a transfer, he had his hand on the telephone.
"It turned out that I was the first person who had actually asked to go there. Previously people had been sent, usually unwillingly, for a six month attachment. I was allowed to stay longer and became the most junior person there, even though I was the most highly qualified."
Indeed, Derbyshire had a degree in mathematics and music from Girton College, Cambridge, a combination that enabled her to operate the tools of her trade with calculated precision and musical dexterity.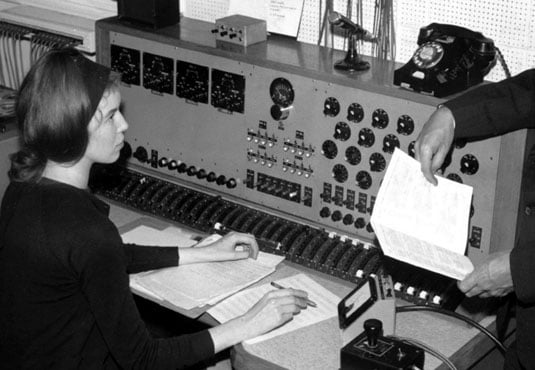 Delia Derbyshire at work behind the Radiophonic Workshop's custom built 20-channel mixing desk. It seems smaller than it is as the majority of its valve circuitry was housed separately in 19in rack units
"I joined in 1962 and the first thing that I did was to go off and tour around our European colleagues' studios like the ORTF [Office de Radiodiffusion Télévision Française at Radio France] to see how they worked. I was so brave – just marching in like that. It wasn't long until I returned and began work on Doctor Who. I had only done one other television programme before that called Time On Our Hands, using beautiful abstract electronic sounds. So I was very inexperienced, but making something from nothing was my secret."