This article is more than 1 year old
Asus Transformer Book T100: Xbox One? PS4? Nah, get a cute convertible for Christmas
Skint and students alike all love a good 10-incher
Review The Asus Transformer Book T100 looks like it's going to be surefire hit, but not because it runs a quad-core Intel "Bay Trail" Atom processor. And not because it's a convertible taking on tablet form or becoming and touchscreen notebook in a snap. And not because it runs Windows 8.1 and not one of the original wishy-washy versions either. Nope, the reason has to be the price of £350 (and about $299 Stateside) with a copy of Microsoft Office 2013 Home and Student thrown in.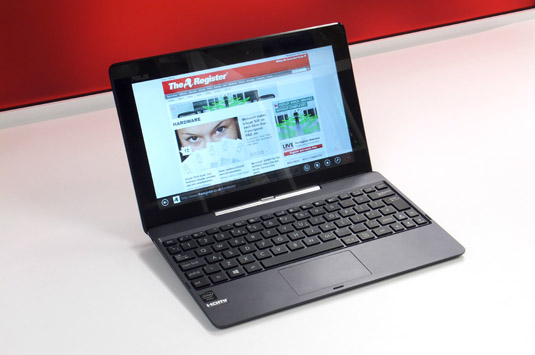 Asus Transformer Book T100: Small yet fully functional
Really, who's going to argue with that when most Chromebooks would be a good deal bigger and lacking a touchscreen, let alone any fondleslab goodness? If you need to placate a teen with a tablet fixation during the festivities, then it would seem the T100 might stand a chance of being grudgingly accepted as their dreams of an iPad Air and a pricey Bluetooth keyboard/case combo come crashing to the ground.
Sold already? Of course not. At £350 for the Asus T100, it's not exactly a gift horse. So let's have a good look in its gob. Open up this diminutive clamshell and you could easily mistake for a netbook of old, although nothing like as chunky.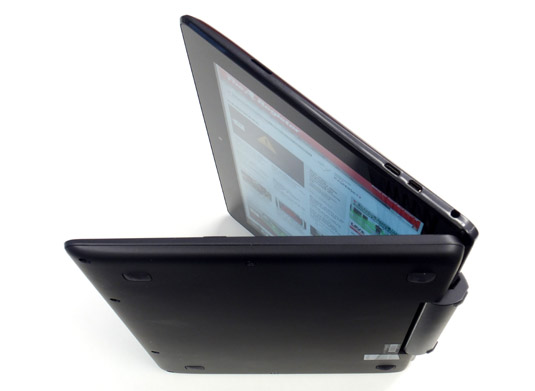 Wakes from sleep as soon as you open it
The 10.in IPS multi-touch display has a 1366 x 768-pixel resolution which works out quite nicely on this form factor. The black borders help put on a show of your fingers tapping the keys but otherwise viewing is perfectly satisfactory. I'm not sure about 178-degree viewing angle claims though, as all you really see in such a position are reflections.
The keyboard is delightfully dinky, the laptop equivalent of a toy piano – functional, but not for the big time. That said, despite being scaled down, the spacing is pretty much spot on and you can get up to quite a speed with very few forced mistakes. The keys are pleasingly sprung, almost silent and even though the base seems a bit flimsy and plasticky, it's actually quite sturdy with no major flexing issues. Nice job, Asus.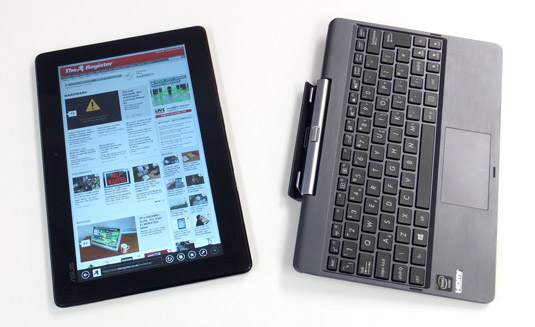 Inseparable? The tablet and keyboard combo is very neatly executed
The trackpad is responsive and multitouch too, so page scrolling is an easy two-fingered affair. And yet my biggest grumble has to be the trackpad for no other reason than presses for left- and right-click make such a noise I felt quite self-conscious about using it in the office. Still, there is a workaround of course, you can use the touchscreen or a mouse too, if you like.
Apart from the actual docking hinge itself, the only interface feature of the T100 keyboard is the USB 3.0 port. The tablet has rather more to offer with micro HDMI, micro USB (for charging) and a 3.5mm mic/headphone combo port. It also has the welcome inclusion of a micro SD card slot so the 32GB internal storage isn't the only repository here. Once formatting, Win 8.1 and Office is out of the way, 14.2GB is all you're left with although there is a 64GB version, apparently.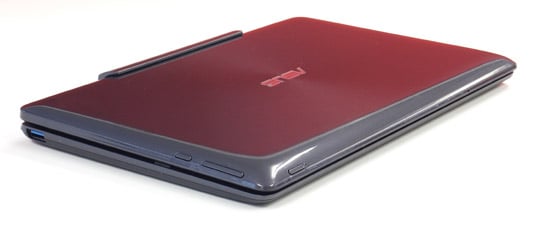 The USB 3.0 port is the only interfacing on the docking keyboard base
Still, it's no slouch with its quad-core Intel's 1.33GHz Atom Z3740 CPU and just 2GB of RAM to play with, the performance is a massive step up in comparison to last year's sluggish 1.8GHz Atom Z2760. One way this showed itself was with the HDMI output. Grab yourself a micro HDMI adapter and you can have an extended desktop on the T100. I hooked it up to a 1080p monitor and played matching resolution movie content to this screen.
I'd found on the older Atom Windows 8 tablets that they would stumble to deliver a sustained 1080p movie playback to an external monitor tending to freeze or slow to refresh scene changes, with 720p content proving much more stable. At least the T100 didn't mind too much either way, although the 1080p movie viewing could have been smoother at times, but on the whole it performed reasonably well.