This article is more than 1 year old
HTC One M8: Reg man takes spin in Alfa Romeo of smartphone world
Nippy, gorgeous featu... Sigh. You're buying BMW, aren't you?
Review If phone companies were car manufacturers, HTC would be Alfa Romeo to Samsung's BMW. Customers look at the HTC One, see how it matches the Galaxy spec for spec, how it's that little bit more interesting and significantly nicer as a physical object... and then buy the Samsung anyway.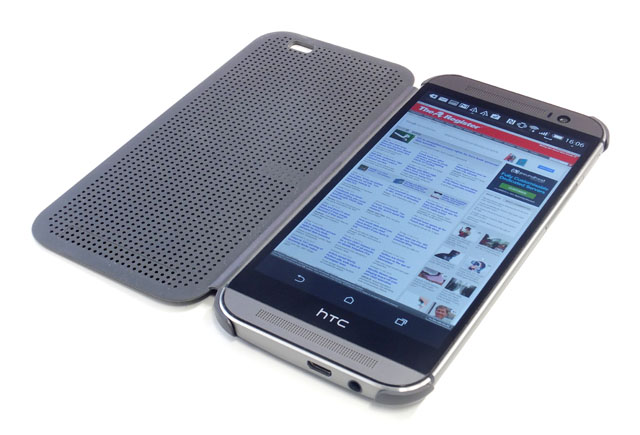 The road less travelled? HTC's One M8
To sway people from their habitual paths, the new HTC One is going to need more than a smarter case and incremental spec improvements. HTC wants to capture between 8 per cent and 10 per cent of the smartphone market – roughly equivalent to Nokia – but in the crowded Android space, that's a tall order.
Let's quickly run through what makes it special. The HTC One M8 has a clever system of dual cameras which gives depth measurement. This opens the way to lots of special effects to make your selfies that much better. It has great speakers, a MicroSD slot and there is a clever see-through case which lets you check the time with a double tap when it's closed.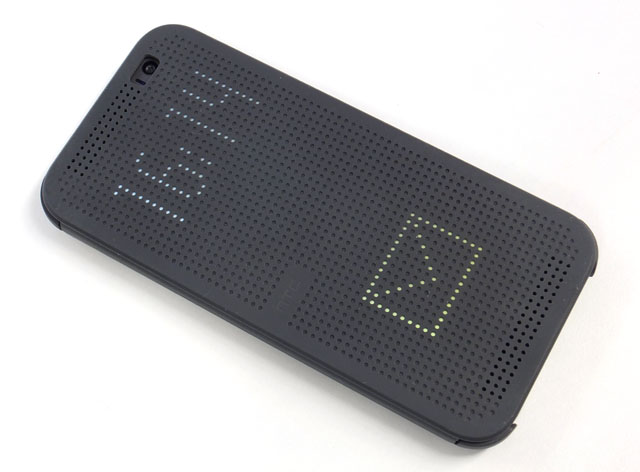 Illuminating idea: the perforated cover shows gives some basic info when double tapped
Yet it's an injustice to the phone's styling to put it in the case, as it looks and feels great without it. HTC is rightly proud of the back being 90 per cent metal, brushed aluminium, and uses the case as an antenna. RF is difficult, and juggling the dozens of frequencies – which the LTE spec allows for – much more so. Putting everything in a metal case makes everything very much harder. But it does feel good, very good.
It also helps the density. One of the things which gives something a quality feel is how dense it is. While the phone industry as followed the mantra of light being good, it's not about the weight but how you use it. Something with a heft feels like a quality item: it's why a Zippo lighter feels better than a Cricket. At 146 x 71 x 9mm and 160 grams, the HTC One feels great. Putting it in a plastic case makes it feel cheaper and less dense.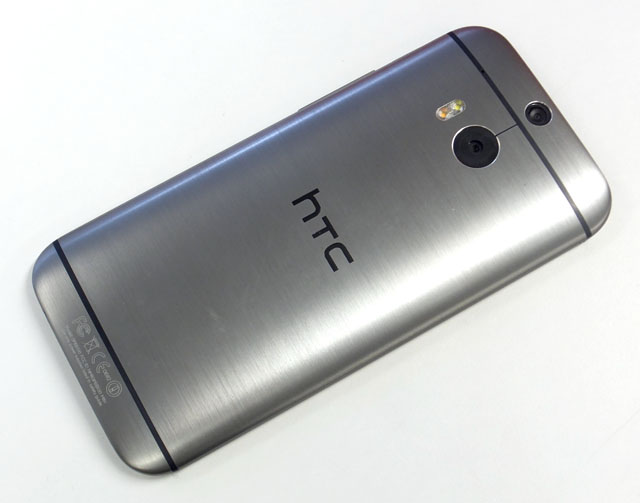 Looks quite pretty out of the case
The headline feature of the HTC One is its depth sensor. Everyone has to have a distinguishing gimmick in their phone. Sony makes its phones waterproof, Samsung's is a heart rate sensor and HTC's is a second camera which is used to measure how far away things are. This isn't anything like as precise as the X-Box Kinect, which can do full 3D mapping, but makes it simple to add the fashionable Bokeh effect where the focal point of the image is sharp and the rest is fuzzy.
The effects filters also let you replace the fuzziness with pencil sketches, monochrome, cartoon and speed filter effects. You can't save pictures out in a model that contains the depth information, instead each time you apply a filter it saves a copy. You can soon end up with lots of very similar pictures on your phone. Saving out the depth information – and providing a desktop viewer – would be particularly cool for the mode which extrapolates a 3D view with perspective. Ultimately it's not as powerful as the Lytro camera but quite fun all the same.

HTC One M8 camera tricks – click for a larger image
The resolution is nothing like as good as the Nokia PureView 41Mp or even the Sony Z2 at 20.7Mp - it's a paltry 4Mp - but HTC is keen to explain that because the sensor is every bit as large of its rivals, these "ultrapixels" are very much better.
What it can't ignore is that those rivals have software and physical optical image stabilisation which both reduces camera shake and helps low light performance.  Alfa will tell you that their 1750cc four cylinder turbo is every bit as good as rivals' engines, but BMW will sell you a 3000cc N55 straight six.