This article is more than 1 year old
In three hours, Microsoft gave the Windows-verse everything it needed
Except a Windows strategy. But we can wait for that
Analysis In a three-hour session at Build 2014, Microsoft pulled itself further clear of the wreckage created by the company's ex-Windows 8 chief Steve Sinofsky.
Most keynotes ramble at least a little bit, but the sheer deluge of updates at Microsoft's annual developer conference yesterday seemed to leave the audience battered and exhausted.
Such was the pace of the bombardment, even the major news that Microsoft was scrapping royalties for all phones and for tablets with displays smaller than nine inches, took barely a minute. This was nothing to sniff at. Microsoft's empire is founded on licensing royalties, and co-founder Bill Gates was reported to be strongly against dropping royalties for Windows Phone, even in the face of competition from almost-free Android.
Let's see what Microsoft got right. Two epic errors stand out as being confronted and dealt with.
In Sinofsky's cultural revolution, pretty much everything went out of the window. The new Metro Modern user interface was a sandbox of touchscreen-friendly tiles. Apps were supposed to be written once for Windows 8 and then run seamlessly on desktop PCs, tablets and phones and look alike, but in reality required developers to target three incompatible APIs. The result was the exact opposite of what Microsoft's management hoped Sinofsky's radical plan would achieve.
Instead of "brute forcing" a new Windows ecosystem into existence, to take second or third place behind Apple's iOS, Sinofsky just created three more mini-Windows, three more minnows.
So instead of providing a bridge for Microsoft's vast developer base to the new Metro world, it instead invited them to jump over the abyss. Why, as a developer, would you want to write code three times for platforms nobody really uses? Legacy enterprise apps were left high and dry.
Microsoft addressed these issues in two ways this week. Finally, at long last, developers can use "90 per cent" (its figure) of the same code base to create Universal Windows apps for Windows Phone, RT, desktop Windows and now Xbox.
That may not be much help if you have already invested a huge amount of time in one of the platforms (say, desktop or Windows Phone), but for greenfield projects, the concept of write-once-run-anywhere is very attractive. For those interested, a guide to building programs for both Windows and Windows Phone is here: part 1, part 2, and part 3.
It's quite astonishing Sinofsky plowed on with the incompatible sandboxes for as long as he did, without being collared. It was only the flight of successful executives escaping his cultural revolution that forced then-CEO Steve Ballmer to take notice, and deal with the carnage.
Secondly, Microsoft has devised a cunning way for developers to keep ancient yet critical code while migrating to the new world. The Brokered Windows Runtime allows old software to communicate with Modern touch apps in a separate process "outside the app container."
Microsoft demonstrated a new Windows RT sync app that talks to some old database code using synchronous calls, but without blocking the user interface thread as synchronous calls used to do in the Victorian era (eg, 1995). This service doesn't apply to consumer apps, because only enterprises are permitted to sideload apps. But there is an awful lot of ancient code out there in the business world that's been thrown a lifeline.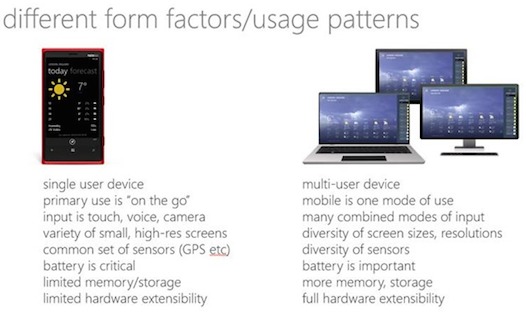 This ... has to be pointed out to people?
Again, it's astonishing that Microsoft urged developers to embrace the Metro/Modern touch world and didn't allow them to bring their investments forward.
The addition of the Xbox One as a build target for Universal Apps is a nice bonus. Microsoft devoted lots of time describing examples of what Kinect could do – and many are not games. All in all, the Windows world is far healthier than it has been in the past two years. So developers will be a lot happier
(I've since had a hands on with Windows 8.1 Update and will write this up separately.)
What we didn't hear from Microsoft was a clear over-arching direction. Whether, for example, the software giant will continue Surface, its own tablet hybrid hardware. Or how it justifies retaining Bing and Xbox. You'll note it has been obliged to give a seat to an activist shareholder who lobbies strongly against such strategies. It's unfair to expect new CEO Satya Nadella to show his hand – he's barely got his feet under the table. But at some time in the near future, some time this year, he's going to have to do just that. ®