This article is more than 1 year old
Heads up, Chromebook: Here come the sub-$200 Windows 8.1 portables
Cheap-as-silicon-chips Redmond-powered kit debuts in Berlin
IFA 2014 Microsoft has been promising dirt-cheap Windows 8.1 devices for months now, and as the IFA 2014 consumer electronics conference kicks off in Berlin this week, the first round of penny-pinching Windows kit has finally started to arrive.
Acer, Asus, and Toshiba have each announced sub-$200 Windows tablets or laptops at the show, and other vendors are expected to follow suit.
The new devices, which are priced to compete with the likes of Google's Chromebooks, have been made possible in large part by Redmond's aggressive new Windows licensing initiatives, including a zero-dollar license for devices with screens smaller than nine inches and the subsidized Windows 8.1 with Bing version.
From what we can tell, the cheapest of the new kit is Toshiba's Encore Mini tablet, a seven-inch fondleslab running full Windows 8.1 that launched on Wednesday at a retail price of just $120 – less expensive than many comparably sized, name-brand Android tablets.
The Encore Mini has a 1024-by-600 resolution, multi-touch screen and is based on a quad-core Intel Atom Z3735G processor clocked at 1.33GHz (with a boost speed of up to 1.83GHz). It ships with 1GB of RAM and 16GB of onboard storage – so it's not exactly a workstation, but it should make for a usable secondary device.
It runs Windows 8.1 with Bing, which means Bing comes preconfigured as the default search engine in Internet Explorer but not much else, as far as the user's experience is concerned. It also comes with a one-year free subscription to Office 365 Personal – which, we note, is not the same thing as the free Office Home and Student 2013 we were promised earlier this year.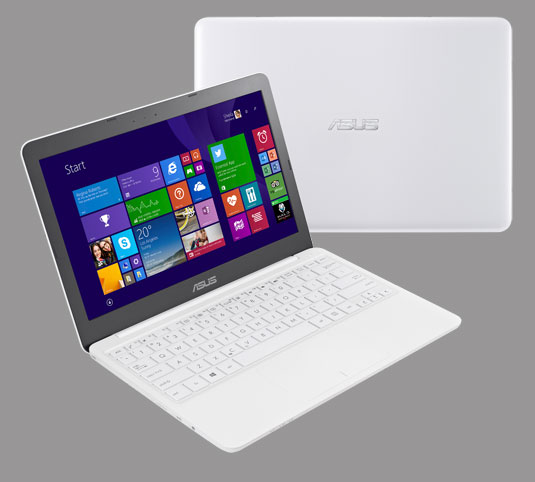 Don't call the Asus EeeBook X205 a netbook ... but let's face it, if it looks like a duck and quacks like a duck ...
Acer, meanwhile, showed up at IFA with a slightly larger Windows fondleslab that also carries a larger price tag, albeit still squeaking in below the much-muttered-about $200 mark.
The Acer Iconia Tab 8 W has an 8-inch, 1280-by-800 resolution display, but its other specs are similar to the Encore Mini's. It uses the same Atom Z3735G and it also comes with 1GB of RAM, but it doubles the storage to 32GB. Also like the Encore Mini, it runs Windows 8.1 with Bing and bundles a one-year subscription to Office 365 Personal.
The Iconia Tab 8 W will ship to Europe first in October with a price tag of €149 ($193), but we're told that when it makes its way to the Americas in November it will retail for $150.
Rounding out the offerings shown at IFA so far, Asus – the company that virtually invented the netbook category, years ago – looks to be the first company to take a direct run at Chromebooks with the $199 EeeBook X205 notebook.
Asus has yet to publish detailed specs, describing the unit only as "compact and colorful" – it comes in black, white, gold, and red – but according to media reports it has an 11.6-inch non-touch display at 1366-by-768 resolution, 2GB of RAM, 32GB of solid-state storage, and an unspecified quad-core "Bay Trail" Atom processor (which could be the Z3735G again).
The EeeBook X205 reportedly comes with Windows 8.1 with Bing preinstalled, but we're not sure yet whether it also bundles a one-year Office 365 subscription, like the aforementioned tablets do.
Doubtless these devices are just the first of a slew of cheap Windows kit that should arrive in the run-up to the holiday season, with Dell and HP, among others, expected to launch sub-$200 Windows devices of their own in the coming months.
In fact, if any of it catches your fancy, it might even behoove you to wait awhile before plunking down your hard-earned coin. At the Windows Partner Conference in July, Microsoft COO Kevin Turner to expect a $99 Windows tablet by Christmas – fingers crossed. ®