This article is more than 1 year old
Thinking of adding an SSD for SUPREME speed? Read this
The fast and curious world of PCIe Flash
U.2
While it appears SATA Express has been consigned to that large warehouse seen at the end of Raiders of the Lost Ark, a new interface for getting a 2.5in SSD hooked up to the PCIe bus has appeared in the shape of the SFF-8639 – recently renamed U.2 by the Small Form Factor Working Group (SFFWG). U.2 has the immediate advantage over SATA Express of supporting four PCIe lanes, instead of just two, and NVMe support.
Intel has a 2.5in (15mm format) version of the latest SSD 750 that uses this connector for the consumer market. So it's just a matter of finding a motherboard or M.2 slot adaptor to connect the other end of the cable to.
NVMe
The problem with PCIe-based SSDs – and all SSDs to date come to that – is that they have, until now, relied on the old AHCI architecture that was introduced way back in 2004 to support mechanical hard drives. The trouble is that, even if an SDD is in the system, the legacy command list in the architecture still has to be run through, although they have nothing to do with the SSD. Ultimately, going through motions of these redundant routines wastes CPU cycles.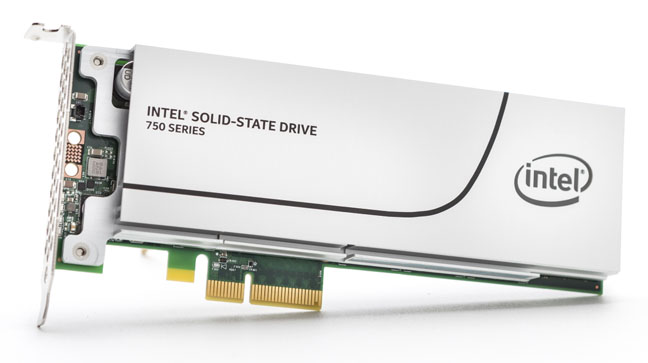 Intel SSD 750: NVMe with U.2 compatible connector
NVMe or to give it its full name, Non-Volatile Memory Express (NVMe) architecture was first defined as long ago as 2007 under the guise of the Non-volatile Host Controller Interface (NVMCHI). It has been built from the ground up to fully support NAND memory and promises huge gains in performance. It has a register interface, command and feature sets designed specifically for NAND, and it takes advantage of the low latencies and parallelism of PCIe-based SSD storage.
The latest 1.2 specification includes support for the SSD to use system RAM for SSD management, instead of relying on a cache chip in the drive itself. This should lead to simpler and cheaper drive designs, as well as improved performance in some situations. There's also enhanced thermal management to stop the SSD from overcooking itself.
Even Microsoft has realised the potential this technology brings, as it has built a driver for it into Windows 8.1 so a device can be booted from this storage type.
Although Samsung was first out of the door with the XS1715 drive, the only readily available drives were Intel's DC series aimed at the enterprise sector. This has led to the introduction of the SSD 750, the first NVMe drive with the consumer segment in mind.