This article is more than 1 year old
Elephant-sized Infinidat array gets calf that starts small, grows BIG
F2000 is the up-to 330TB, seven-nines, baby 18U array that never forgets
Moshe Yanai's Infinidat high-end enterprise array is getting added file support, better disaster recovery and an entry-level system.
The InfiniBox F2000 entry-level box is an 18U rack enclosure with 250TB of usable capacity with 3TB disk drives or 330TB with 4TB drives. The original and ongoing InfiniBox F6000 offers up to 2PB of usable capacity in a 42U rack. The new configuration has the same code base, management capability and "seven nines" availability as the F6000.
Infinidat's array software is now unified in that it has had file-based access added to its block base. It supports NFS v3.0 and has up to 2PB of usable capacity. The file-based pool of storage, like the block base, can be as large as the entire usable capacity of the system, and both files and blocks are allocated from a common base pool of storage.
There can be a single file system or many – up to thousands, Infinidat says – and they have the same data services as block storage; snapshots, clones, dual-parity RAID and the seven-nines availability.
File-based access was included with a prior IZBOx G3000 filer system, which is no longer listed on its website as a product. Infidat says its InfiniBox product was designed from day one to be a unified file and block design.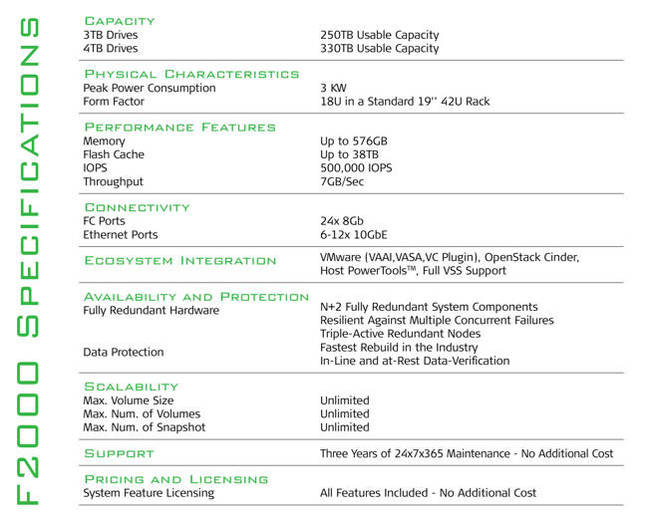 Infinidat F2000 configuration details
InfiniBox is getting sysnchronous replication using snapshots. These are thin-provisioned and Infinidat says there is no performance degredation when they are used. The replication can deliver, it says, an RPO of less than four seconds. It has role-based access control, unified consistency groups and automated provisioning on both the local and remote systems.
Get an InfiniBox F2000 datasheet here (registration required). The F2000 system has all software licences included, along with three years of 24/7 maintenance. Asynch replication comes as a no-charge software update and the NAS capability should arrive in November. The F2000 is available now. ®