Nimble has fixed a great hole in its product line with a quartet of all-flash array products, reaching up to 2PB of effective capacity (assuming 5:1 data reduction) and 350,000 read IOPS, beating competition from Pure, EMC and NetApp/SolidFire.
These arrays offer more performance, with 0.2ms latency, than Nimble's CS hybrid (Adaptive Flash) flash+disk arrays, which provide a mix of price-efficiency and performance for mixed mainstream applications.
Nimble offers four models: the AF3000, AF5000, AF7000 and AF9000, and each can have its SSD capacity scaled up, and also be scaled out non-disruptively into four-node clusters.
Each system has a 4U base unit and one or two 4U expansion units, each with 48 slots. They are actually equipped with 24 SSD slots, but when configured with Nimble's Storage Dual-Flash Carrier (DFC), the capacity of each slot is doubled, meaning scope for up 48 SSDs per array head unit and expansion shelf.
This DFC unit also renders the drives hot-swappable. Pure has dual carriers but its individual drives are not hot-swappable, Pure having the option to either fail the second drive upon removal, or endure two drive rebuilds.
Samsung PM863 series 2.5-inch SSDs, 32-layer 3D TLC V-NAND drives, are used and, through endurance management and integrated hot sparing, they can last up to seven years. SSD capacities range from 240GB to 3.84TB.
These drives have a single Printed Circuit Board (PCB) in a 7mm form factor.
Pure arrays and Dell's SC Series arrays use these drives, with HPE set to be using a future 7.6TB version in its 3PAR StoreServ arrays in fairly short order. Samsung has 48-layer product in its road map and also flagged a 15.36TB product is in its development labs.
If Nimble keeps up with Samsung's 3D development curves then tasty capacity increases should be coming.
There is a common set of data services across Nimble's CS and AF series products and the CS and AF systems have recorded 99.9997 per cent availability, meaning up to 8 seconds a month downtime.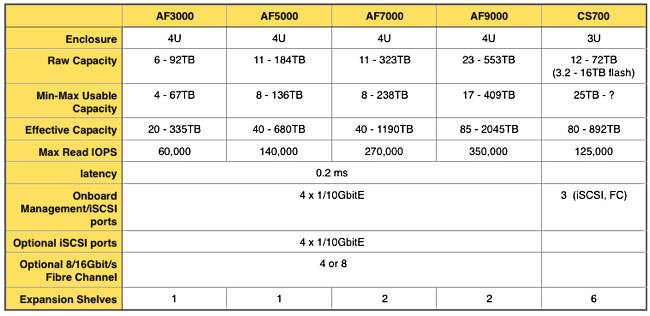 The four AF Series models with the hybrid CS700 for comparison
An AF array can back up data to Nimble's hybrid flash/disk CS arrays, using snapshots and replication, and these can provide a backup, archive and disaster recovery resource for AF users.
Nimble says the AF series have inline, variable-block length deduplication and compression, with zero pattern elimination, thin provisioning and zero-copy clones adding to the data reduction efforts.
Protection is by Triple+ Parity RAID which can recover from three simultaneous SSD failures and offers intra-drive protection with integrated drive sparing. Security comes with application-specific granular encryption and data shredding.
Competition
Nimble says its AF9000 offers up to 2PB effective capacity and 300,000 read IOPS in 12U of rack space. EMC's XtremIO can hold, it says, only 201TB and delivers 150,000 IOPS. Pure Storage offers up to 400TB and 300,000IOPS.
SolidFire requires 82 rack units and 82 SF9010 systems to reach 2PB of capacity.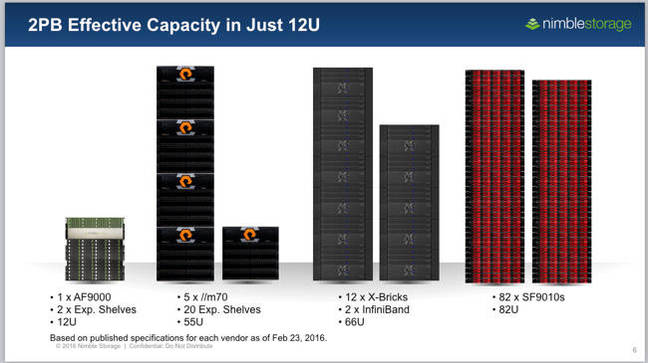 Nimble AF Series vs Pure Storage, XtremIO and NetApp/SolidFire
A four-node AF9000 cluster offers 8.2PB and 1.2 million IOPS versus XtremIO's scaled-out 1.6PB and 1.2 million IOPS.
Pure says it has no scale-out capability.
Nimble products come with InfoSight Predictive Analytics to proactively deal with faults, and have all-inclusive software licensing. There is flat support pricing in years 4 and 5, and the Timeless Storage support contract has an option for a new controller after three years.
Nimble's AF series join in the intense all-flash array competition, and will be meeting Dell SC Series, EMC XtremIO, HDS' A Series product, HPE's StoreServ, IBM FlashSystems, Kaminario K2, NetApp's EF540, AF-FAS and SolidFire arrays, Tegile and Tintri AFAs, Violin Memory's 7000 and X-IO's iglu 800L.
Nimble's Predictive Insight gave it an edge in the hybrid array startup area and it will be hoping that this trend-setting support technology plus its AF Series' capacity, performance and density will enable it to claw back its position as a leading next-generation storage array supplier.
No pricing information was released but Nimble claims its AF Series are up to 66 per cent cheaper than competing arrays on a total cost of ownership measure. Check out a Nimble staffer's blog here. ®
Similar topics