This article is more than 1 year old
Happy 10th birthday, Evernote: You have survived Google and Microsoft. For your next challenge...
225 million jotters can't be wrong
Evernote can quietly celebrate its 10th anniversary this summer, and remarkably, the software company behind it remains independent.
Devised by the Russian/Udi computer scientist Stepan Pachikov, who developed cursive writing recognition for the Apple Newton, Evernote can now boast 225 million registered users, with 20,000 businesses on its enterprise tariff. Seventy per cent of Evernote users use it in a professional context, the firm told us.
What's also remarkable, beyond survival, is how little the desktop app has changed since Pachikov's 2004 patent.
The information manager filled a yawning gap in the market that a fad-driven software industry had overlooked.
Before the internet took off, corporate information management either meant KMS (Knowledge Management Systems), which came wrapped in bureaucratic procedures, or Lotus Notes, which again required heavy top-down IT department investment.
Once upon a time, Lotus Agenda – the DOS "spreadsheet for the mind" created by Mitch Kapor, the author of Lotus 1-2-3 – gave the user the ability to tag, categorise and create views on the fly. The second version appeared in 1990. Then there was a long gap.
Kapor's open source 'spreadsheet for the mind'
READ MORE
For a while in the Windows era, ECCO Note and Zoot borrowed some of Kapor's ideas, famously lauded by Jim Fallows in The Atlantic in 1992. (A rueful appreciation of Agenda [PDF] can be found here.)
In 2002 Kapor vowed to revive the Agenda project, but it got nowhere, slowly. Evernote does much of that today, without quite the freeform anarchy that baffled many Agenda users. (Lotus would eventually find vertical niches by providing templates.)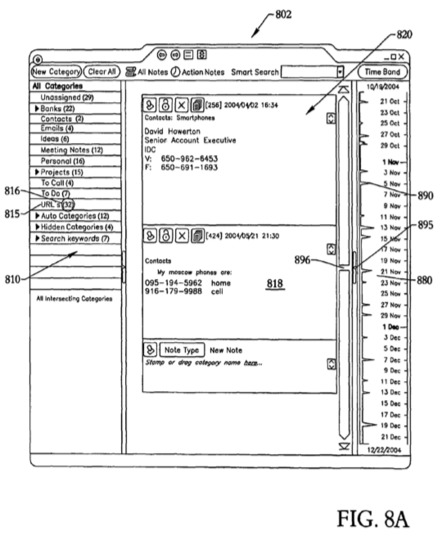 The original Evernote patent. What's changed? Note much. [You're fired – Ed]
Microsoft had noticed how embedded Notes was becoming in enterprises, and modelled the Outlook/Exchange combo on the Notes behemoth. But Microsoft, weirdly, never took advantage of the sprawling engine it had created, with its immense flexibility for categorising data and creating custom views on it. Only a tiny proportion of the power in Exchange/Outlook is ever used. The cultural memory of this must be lost within Redmond, given that Microsoft now splashes out on companies that implement Outlook functionality from scratch.
Keeping it simple
Evernote has fulfilled much of the promise of Agenda, and survival has meant weathering a concerted assault by both Google and Microsoft.
"We've been quiet for two years," acknowledges chief product officer Erik Wrobel, fresh off a plane from San Francisco.
At one time Evernote users were alarmed at the variety of features (like chat) being added to Evernote, and fretted it might lose track of its original mission. But fret not: Wrobel says it's refocused around what it does uniquely well: information management. The philosophy is to keep things simple, and work with partners.
There's no need to replicate Slack, or Teams, when Evernote can implement it, he told us. And no need to replicate SalesForce, when the synchronisation works so well.
"We have an API and ISVs who build the integrations themselves," Wrobel says. SalesForce is a good example, he says, with data being synchronised in and out of the CRM app. CloudElement is another. Wrobel told us he expects to see more integration with automation apps like IFTTT.
Wrobel says that feature-creep has consciously been killed off, and it's also part of the same philosophy to expose users gently to new features, rather than shoving them in their faces from the outset. Once you've used the app for a while, it might give you a gentle pop-up based on usage.
Although Evernote first appeared on the Windows desktop, it was its cross-platform appeal and its ability to suck in data from the proliferation of mobile devices that cemented its allure. Wherever you were, you could pipe information into Evernote, and in most places, view it too. (Linux clients use the public APIs.)
But in 2015, just before Wrobel came in, Evernote wobbled. CEO Phil Libin stepped out, and Google X guy Chris O'Neill took over. O'Neill cut the workforce by 13 per cent, vowing to be more streamlined. Applications like a dedicated food app and Hello were axed. (The Scannable app survives today).
At the same time that Evernote announced it would run on Google's cloud, the company announced a new privacy policy, in anticipation of adding new "deep learning" features
The clumsy announcement made users – including this one – fear the worst, and begin planning a migration away from the friendly green elephant.
Users were told:
In building a more personalized Evernote service that can adapt to the way you think and work, we may need to oversee these automated technologies to ensure they are working as intended. Your data remains confidential; access to customer data is strictly limited as outlined in our Privacy Policy. If you want to opt out, you can do so in your account settings, and our engineers won't look at your data to improve the service. However, you may not be able to fully take advantage of future advanced features.
By December of 2016, as the outcry grew louder, Evernote back-tracked and changed its mind.
"None of those features were ever implemented," Wrobel tells us, and the company has spent years getting up to speed on privacy. The EU's General Data Protection Regulation rules are now global at Evernote, the company points out.
In response to Evernote's phenomenal rise, Microsoft exhumed OneNote, and Google knocked out a crude clone, Google Keep. That's bundled on hundreds of millions of phones today, thanks to Google's strong-arm licensing agreements. But Evernote sails on. Google seems to have forgotten Keep is still there, and as Wrobel points out, it isn't as cross-platform as Evernote. Perhaps more crucially, Evernote has web clippers everywhere, while Microsoft and Google doesn't.
Even Microsoft seems to have given up trying to bulldoze the green elephant. OneNote dates back 15 years to the TabletPC initiative, and has only really ever been a note taker, not an information manager – as many of us found when contemplating a migration. The OneNote Win32 desktop app is being deprecated for a UWP version with less functionality and it will no longer be part of Office.
Given Microsoft's record with swallowing software companies, let's hope it isn't greedily eyeing Evernote to fill that OneNote-shaped hole. ®