Team China: Nation's biggest mobe makers link arms to battle Google's Play Store
How to supplement falling handset margins and rising tensions with the Trump government? Let me see....
---
A consortium of Chinese phone makers are to create alternatives to Google's dominant Play Store, reducing their reliance on America tech and building another potential source of income.
The Global Developer Service Alliance (GDSA) - comprised of Huawei, Xiaomi, OPPO, and Vivo – will seek to lure developers to deploy their content across each manufacturer's mobile app store. In addition to apps, the GSDA's platform will let individuals share movies, music, and magazines.
An early website for the project has gone live, containing basic documentation, and lists a bunch of early target markets: Spain, India, Indonesia, Malaysia, Russia, Thailand, the Philippines, and Vietnam.
"The Global Developer Service Alliance (GDSA) is committed to providing one-stop services including content distribution, development support, marketing operation, brand promotion and traffic monetization to global developers," the project's website states.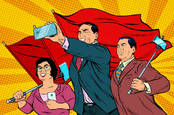 No Huawei out: Prez Trump's game of chicken with China has serious consequences
READ MORE
Developers will be able to monetise their applications, although support is contingent upon the OEM and the territory of the user. The documentation notes that developers currently aren't able to use the GSDA platform to market premium applications to Spanish users.
According to Reuters, the project is supposed to formally launch in March. However, with the novel coronavirus disrupting the Chinese tech sector, forcing some employees to miss work, it's not clear if it'll hit this deadline.
The Register has contacted Oppo, Vivo, Huawei, and Xiaomi for comment. At the time of publication they had not responded.
This app store will allow China's biggest phone manufacturers – who collectively represent 40.1 percent of all phones sold globally during Q4 2019 – to break free from Google.
Last summer, Huawei and other Chinese based businesses, were placed on America's Entity List, which effectively forces US suppliers to attain a government-approved special license to trade with them. As part of this, Google yanked the Play Store and additional services from future shipments of Huawei smartphones. The resulting loss of confidence from consumers killed off Huawei's ambitions to become the world's biggest seller of phones, though it still rules the roost in China.
Other members of GDA, namely Oppo, Xioami and Vivo, have not been caught up in the crossfire between the US and Chinese to the same extent.
Another reason for the alliance is commerically based: With profit margins on handsets – particularly low-to-mid-range phones – incredibly tight, China's big OEMs will diversify into services, allowing them to try to capture a bigger proportion of the app spend in China, the world's biggest smartphone market since 2012.
In September, Huawei announced it was investing $1bn into its own app bazaar – the Huawei App Gallery – to entice developers. That move was no doubt also motivated by the company's desire to salvage its European handset business. Oppo, Vivo, and Xiaomi also operate their own app stores.
In many cases, users have tended to ignore these app stores, using instead the more developed Google Play Store, which has just shy of three million apps according to AppBrain.
Closing the "app gap" may allow these OEM-made app stores to become competitive. Crucially, the plan could make China's increasingly prominent app stores resilient against any future disruption caused by a US-government embargo. ®