This article is more than 1 year old
Salesforce likes to play the diversity nice guy in public – Black ex-employee claims the reality is quite different
Resignation letter posted to LinkedIn accuses cloudy CRM biz of 'countless micro-aggressions and inequity'
A Black former Salesforce employee has accused the global CRM software company of "countless micro-aggressions and inequity".
According to her LinkedIn page, Cynthia Perry worked as senior manager in design research and as lead design researcher for more than two years, before leaving Salesforce this month.
Posting her resignation letter on the social network for suits, she alleged she had been "gaslit, manipulated, bullied, and mostly unsupported" during her time at the company.
The cloud application company did not respond to Perry's allegations directly, but a Salesforce spokesperson told The Register: "For privacy reasons we can't comment on individual employee matters but equality is one of our highest values and we have been dedicated to its advancement both inside and outside of our company since we were founded almost 22 years ago."
In the redacted letter addressed to several members of the leadership team, Perry added that "Salesforce, for me, is not a safe place to come to work. It's not a place where I can be my full self."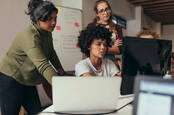 Microsoft: After we said we'll try to promote more Black people, the US govt accused us of discrimination
READ MORE
Whatever the truth of the allegations, Salesforce will find them unwelcome as it makes much of efforts to improve diversity and inclusion. Last year, it launched a Racial Equality and Justice Task Force aimed at affecting systemic change in its workplace and community.
The company has set itself the target of half of its US workforce being made up of underrepresented groups including women, people of colour, LGBTQ+, veterans, and people with disabilities by 2023.
But it has a long way to go. Currently just 3.4 per cent of Salesforce's US employees are Black or African American. That's against 13 per cent in the US population as a whole.
Needless to say, Salesforce is not alone facing this issue. Other companies have similar ratios of Black employees, and Oracle has found itself on the end of a lawsuit from a shareholder who alleges the IT titan has not been truthful and honest in its efforts to create greater racial diversity within its workforce.
Salesforce will now be left to defend itself against Perry's allegations.
"There is a really big gap from how Salesforce portrays itself and the lived experience I had working at this company," she claimed. ®