This article is more than 1 year old
British owners of .eu domains given an extra three months to find a European address
Brexit bonus for EU, it's losing millions after endless rule changes
The British owners of 74,000 suspended .eu domain names have been given an additional three months to change their registration details to an address in Europe before they are permanently taken away.
On Wednesday, the .eu registry operator EURid posted yet another update to its "Brexit page" noting that instead of the names being withdrawn on March 31, they would instead be held in "suspension" until 30 June in order to "provide registrar and registrants that have not yet updated their registration data the opportunity to demonstrate their compliance with the .eu regulatory framework."
What that means in reality is that British owners of .eu domains will need to set up an address within the European Union and then shift the domain registration details to that address. If domain holders want to do that, it's not actually very difficult – any number of registrars will do it for you in order to have your business. EU citizens based in the UK don't need a physical Euro address to keep their .eu.
According to EURid, more than 7,000 domains have been updated as required since January when the domains were facing suspension following Britain's official exit from the European Union.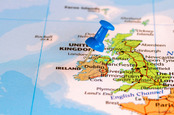 Leave.EU takes back control – and shifts its domain name to be inside the European Union
READ MORE
Despite the extension, however, it's hard not to wonder why the EU decided to impose such an idiotic policy in the first place. It has long been industry best practice to leave domain names alone and allow their natural expiration dates (people typically register a domain for one or two years before they are prompted to renew it) to drive changes, rather than insist on arbitrary deadlines and impose new ownership requirements.
The European Union found out why that was the industry standard approach the hard way: it has had to review its rules at least four times, both as Brexit dates shifted and as .eu holders threaten to sue over poorly thought-out approaches.
Ch-ch-ch-changes
Brussels bureaucrats also stretched their relationship with EURid as the contracted operator of the .eu registry, first imposing a policy that EURid recommended against, and then forcing it to make a series of changes which had to communicate to domain holders each time.
First, in 2018, the EU decided that any .eu domain registered by a Brit or with a British address would simply be cancelled, which infuriated British firms doing business in the EU, Brits living in Europe, and EU citizens living in the UK.
After several iterations, in which Europeans living in the UK got mad, then Brits living in the EU got mad, then everyone argued that it made no sense to cancel names without a grace period, it was finally decided that only Brits based in the UK would have their domains taken away, and that rather than being cancelled, they would instead be suspended and ultimately sold off in 2022 if not reanimated.
By the time the rules were settled, however, the damage was already done. Of the 317,000 .eu domains owned by Brits in 2018, all but 81,470 were dumped, reducing the size of the .eu registry and cutting millions from the EU's own budget as it takes a cut on every registration. In short, another Brexit own goal. ®