€121,000 YOGA Book Android is 'priced right' says Lenovo
Gouging in a pandemic? Shurely shome mishtake...
---
Laptops aren't quite as rare as hen's teeth or rocking horse shit but massive demand means inventories for all vendors are low, and clearly the laws of supply and demand are leading some to raise prices.
Though Lenovo, which admitted recently that its distributors' stock of computers was at a record low, is taking things to the extreme with its YOGA Book Android, which was being sold online today for an eye-watering €120,998.79.
The device, which Lenovo boasts via its web shop is "priced right" for the "the ultimate on-the-go creativity tablet," has nonetheless sold out. This might show the seemingly insatiable appetite for all things PC in these coronavirus-ravaged times, when people in lockdown are working, studying and playing from the confines of the family prison cell home. Or, and this may be hard to believe, it could be a bug.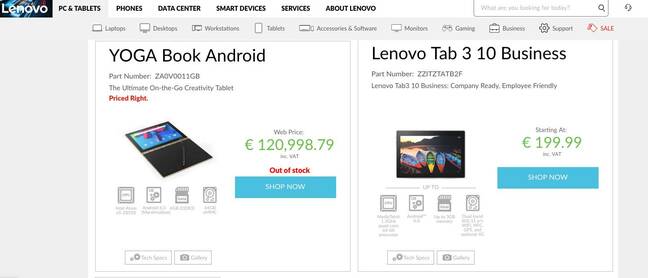 Click to enlarge
A Reg reader who highlighted the exploitation asked whether Lenovo's pricey tab was "gold plated" and "diamond encrusted". Nope.
The YOGA device makes even Apple's wheel kit for the Mac Pro, priced at $699, look competitive but at least it is way cheaper than Dell's Precision 7720, seen selling online for a little more than £7m back in 2019 before the supply problems began.
Tech vendors, eh? If they can get away with it they will. It's not just the PC makers who are happy to fill their boots when the opportunity arises. Cloud was initially sold as being a cheaper way for customers to run their business but costs can soon mount up as more workloads migrate from on-prem.
One AWS customer contacted us in 2017 to reveal his monthly bill for using Lightsail had risen to $46bn, which even by Amazon's track record seemed a bit steep. The company didn't ever get back to us so we never discovered the reason. Perhaps it was a mistake. ®
Similar topics
Narrower topics