Now, whether anyone wants to watch movies on a 2.2in, 240 x 320 screen is another matter. The long and ignoble history of mobile video suggests this is technology looking for a market. If the screen was a little larger, we could imagine watching 30-minute shows on a train or a plane at a pinch. Fortunately for Moto, the Z8 doesn't stand or fall on the public's appetite for mobile movies.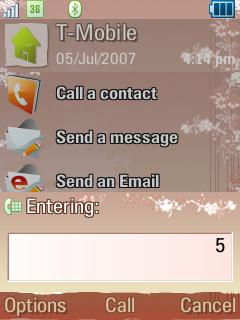 Making a call from the standby screen
The Z8 includes a two-megapixel camera, with eight levels of zoom. This is adequate, but there's no auto-focus. As is the norm with phones these days, it defaults to landscape - you take snaps with the phone aligned horizontally. Confusingly at first, when the Z8's slide is open, it uses the lower-resolution front-mounted 3G video-call camera, rather than the main, rear-mounted camera. Moto bundles the Shozu photo-sharing app with the Z8 - an excellent choice.
The handsets proved rather good for audio playback too. Note that although the retail Z8 is bundled with Moto's own new stereo wireless headset, it doesn't take a standard headphone jack, but instead uses mini USB. With the final retail package unavailable, we tested them with Sony Ericsson's lovely HBH-DS70 stereo headphones, and it worked very well indeed.
A major advantage is the lack of an artificial ceiling on media. The Z8 takes Micro SD cards, but it will be able to handle 32GB cards when they're ready: a welcome bit of future-proofing. And it's good to know there's now another home for the likes of SanDisk's 4GB Micro SDHC card, reviewed here
Unfortunately, there's no TV output. While I can't imagine a mass-market for tiny-screen video, we can envisage video enthusiasts using the phone as a portable cache for content they've acquired - as a kind of sneakernet - particularly since the USB transfers are rapid.
The Z8 uses the standard UIQ applications bundle, which includes a rich messaging client, Tasks, Notes and Calender - here called Agenda. However, as text input is so limited, the Z8 is really a read-only device. And you'll need to install Documents To Go or RoadSync for Office compatibility. The Agenda application demonstrates how good UI design - sensible layout and judicious use of fonts - can make a limited space effective.