US aerospace giants stall Elon Musk's NASA deal
Can Falcon 9 overcome heavyweights' Washington pull?
NASA's plans to ship supplies to the International Space Station (ISS) using commercial spaceships - some provided by famous PayPal and electric-car hecamillionaire Elon Musk - are on hold following a protest by losing bidders in the contracts process.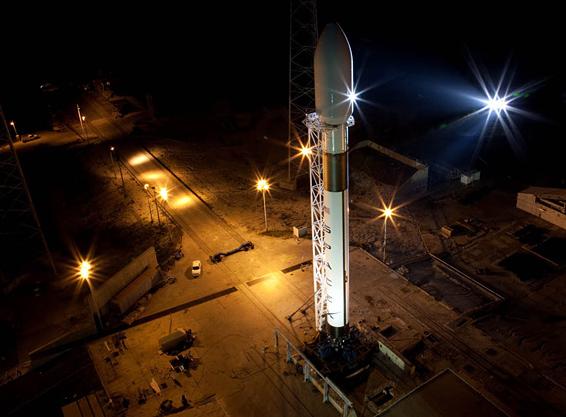 More than gravity to contend with.
Deals totalling $3.5bn were inked by NASA under the Commercial Resupply Services (CRS) programme just before Xmas, naming Musk's SpaceX venture and Virginia-based Orbital Science Corporation as providers of space lift to the station. Last week, however, rival firm PlanetSpace said it had filed a formal protest with the US Government Accountability Office (GAO).
Such a protest effectively prevents the NASA CRS deal moving forward until the GAO rules on whether the procurement process was properly carried out, which it must do within 90 days. If the process is upheld, further lengthy delays could be expected before any new decision by NASA. A decision last year by the GAO that the US Air Force had acted improperly in awarding a multibillion-dollar aerial tanker contract to Europe's Airbus rather than America's Boeing has left the airforce tanker buying push effectively paralysed.
The tanker decision was seen by many as politically driven, with stern rhetoric about American jobs and tech superiority heard on Capitol Hill before the ruling (though Airbus had planned to place much of the work in the US.) PlanetSpace look to be trying the same tactics as Boeing, saying that their CRS bid is "all-US - something that ought to be a domestic priority in light of current economic conditions".
The PlanetSpace alliance includes the traditional heavyweight US rocketry suppliers - Lockheed, ATK and Boeing, the giants of the aerospace world who wield enormous political clout in Washington. They planned to use the Athena III rocket, derived from long-established earlier models.
By contrast, SpaceX plans to carry out the CRS flights using its brand-new Falcon 9 rocket and Dragon capsule, which have never flown. Musk's venture has, however, now achieved a successful flight to orbit on the fourth attempt using the equally new, smaller Falcon 1.
Orbital also plans to field new technology in the form of its Taurus II medium-lift rocket. To date, the firm's main experience has been in lifting very small satellites to orbit using the Pegasus rocket, which is launched from a modified TriStar airliner at 40,000 feet.
With NASA keen to retire the Space Shuttle on schedule next year, the space agency will be frustrated at this delay to the CRS effort and hopeful that the GAO won't uphold PlanetSpace's protest. However, one may be sure that the aerospace majors will be working hard in Washington to that end, and they can exert more political pressure than relative minnows like SpaceX and Orbital.
Should the protest be upheld, it will be back to square one for NASA - and America will be even more dependent in future on Russian Soyuz and European "Jules Verne" spacecraft to supply the space station - which American taxpayers have shelled out colossal sums to build and operate.
Exacerbating such a dependence on foreign lift in order to safeguard the PlanetSpace "all-American" bid would certainly seem a curious move. ®