Apple White MacBook Early 2009
Apple's best-value mobile Mac by far
---
Review Recession or no recession, Apple's latest set of quarterly financial results saw the company top $10bn in sales for the first time ever. As well as selling zillions of iPhones and iPods, it also increased Mac sales by almost ten per cent. That growth was largely down to the success of its MacBook range of laptops, which were completely redesigned and upgraded in October 2008.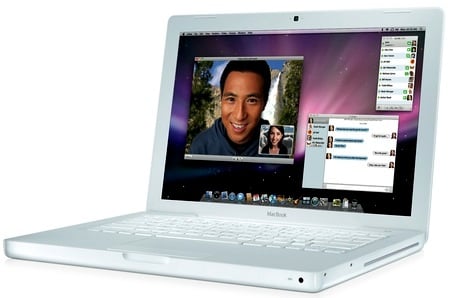 Apple's white MacBook: rather good value for money?
That redesign no doubt helped boost sales, but the remarkable fact about the new MacBooks is that their gleaming new aluminium design actually resulted in a hefty price rise, with prices now starting at £929 for a model with 13in, 1280 x 800 screen and 2GHz processor.
The fact that Apple can increase its prices and still rack up significant sales increases during the worst recession in the entire history of the universe says something about the sheer eye-catching quality of its designs. Even so, £929 is a lot of money for what is meant to be the low end of Apple's product range. And, in particular, it's a lot of money for the cash-strapped students and the bulk-buying US schools and colleges that make up such an important part of Apple's market.
So, when it introduced the new aluminium MacBooks, Apple also decided to keep one of the older MacBooks on sale in order to appease its key educational customers. Priced at £719, the old model retained the somewhat cheap and cheerful white plastic casing that it had used for several years, emphasizing the fact that it was very much the cheapo alternative to its shiny aluminium siblings.
Then, in January, with virtually no fanfare at all, Apple went and upgraded the white MacBook as well, and while it may lack the gleaming good looks of the aluminium models the new white MacBook actually works out as rather good value for money.

The secret's in the spec
The new white MacBook costs £719, as before, and includes a 13.3in screen, 2GHz Intel Core 2 Duo processor, 2GB of DDR 2memory, 120GB 5400rpm SATA hard drive and – the key improvement – an Nvidia GeForce 9400M integrated graphics chip. On paper, those specs look almost identical to those of the 2GHz aluminium MacBook model that costs £929. However, you need to look a little more closely at the spec sheet to spot the differences.