This article is more than 1 year old
Apple Magic Mouse
Ergonomics, we've heard of it
The Magic uses Bluetooth for connectivity. That might not be as good as the dedicated 2.4GHz radio links found on mice from the likes of Logitech, but at least it means there's no need to fill a USB port with a dongle - especially handy if you're a MacBook Air owner.

Not chunky enough for a good grip?
We haven't had the Magic long enough to give a good picture of battery life, but we've no reason to be worried about it. Our Logitech V550 Nano has the same pair of Alkaline AAs it had in over a year ago. We don't think the Magic's two AAs will last significantly less than that, but time will tell.
The laser tracking scanner will power down when the mouse isn't being used, so how much battery life you get will ultimately depend on how you use the Magic and what batteries you use.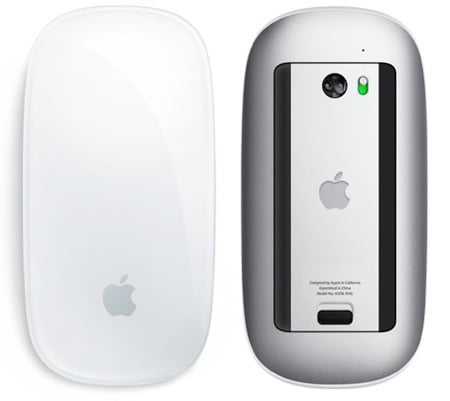 Battery swapping is easy
Verdict
Apple wants £55 for the Mac-only Magic, which isn't cheap for what is, essentially, a standard laser-optical wireless mouse. Look beyond the Apple marketing hype and that's all it is. Yes, it has that multi-touch panel, but it doesn't really do much you can't do with a scroll wheel. It's an alternative to that kind of device, not a mobile trackpad. But it is a better alternative, with superior scrolling than a tilting scrollwheel can manage and none of the dirt-induced problems all trackballs eventually suffer from.
Magic is certainly an improvement on the Mighty, but we still have doubts about Apple's ability to design an ergonomic rodent. For us, it's just too darn thin. We like to hold a mouse not push it around delicately with our fingertips, and so the Magic casts no spell on us. ®
More Mouse Reviews...

Group Test
12 of the
best mice

Hippus
HandshoeMouse

Logitech
V550
Nano

2P
Slim-Mouse

Apple Magic Mouse
The multi-touch scrolling beats any other system we've seen, but while the Magic is ideal for the long of finger, it's too darn slim for the rest of us.