This article is more than 1 year old
Ten Essential... Travel Speakers
The acme of alfresco audio

X-mini X-Max II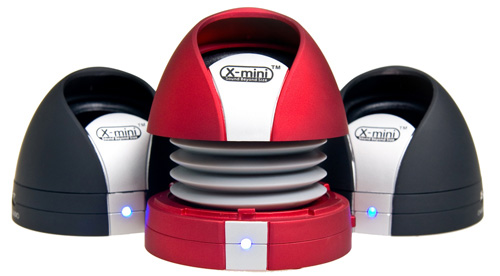 Big brothers to the X-Mini travel speakers, the X-Max IIs stick to the same basic recipe of two expandable concertina capsule speakers that can be joined together at their bases magnetically for ease of carriage. When split apart, the capsules are connected by a cable that terminates in two mini USB connectors, while another cable that ends in both 3.5mm audio and USB connectors is used to connect to your MP3 player and PC for playing and charging, respectively.
Stylistically, things have taken a step forward with open speaker drivers and faux chrome now the order of the day. Power comes from a rechargeable battery in each capsule that's good for around 12 hours of use. Buy two or more sets of speakers and you can join them together into a "buddy" chain.
The drivers in the new capsule speakers are rated at 2.5W apiece making them a touch louder than their predecessors while the larger drivers and enclosures generate a more focused and better structured if still rather raw sound.

JBL On Tour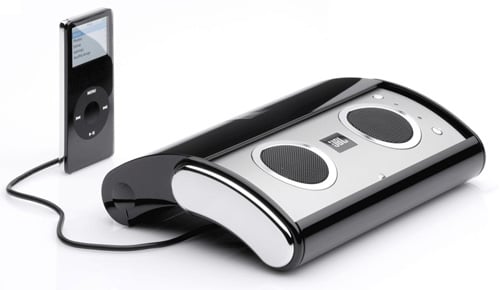 You'd expect a portable unit from a well-known speaker maker like JBL to deliver the goods, and the On Tour doesn't disappoint. Though only rated at 2 x 3W, the On Tour delivers a clean and punchy sound that's as impressive now as it was when JBL launched it. Its also produces a surprising amount fo bass for something with only two 1in speakers.
The On Tour scores well in the portability stakes too thanks to a clever sliding-out-of-itself design that sees in transform from something the shape of a hip flask to something the shape of two hip flasks welded together. With it weighing only 350g and measuring up at 175 x 88 x 35mm, finding space for the On Tour is unlikely to ever be an issue.
The On Tour's stylish, sleek and well made plastic and chrome body is a joy to behold and the touch-sensitive volume controls also impress. It's powered by four AAA batteries, and you should get around 24 hours of playback between trips to the 7-11, though JBL also bundles a mains adapter if you find yourself closer to the beaten path.
Reg Rating 90%
Price £50
More Info JBL