Priced to sell?
When it hits the streets the Slider will run Android 3.0 Honeycomb but the pre-release model I got to play with only had Android 2.3 Gingerbread installed, plus Asus' own UI overlay. Android versions aside, the OS runs like the proverbial off a shovel and the touchscreen interface is very fluid.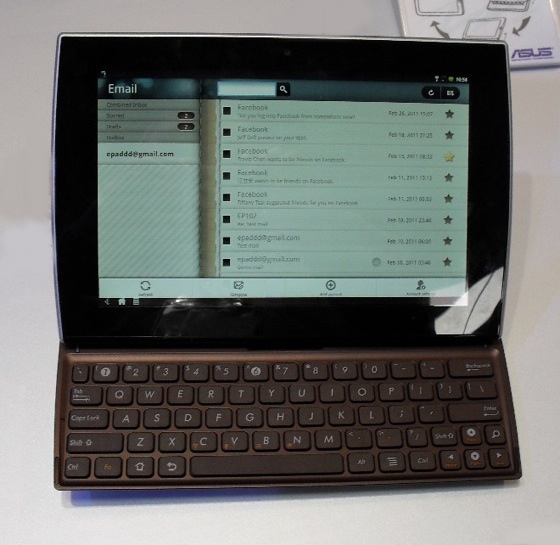 The smartbook revived?
But the best bit is the price. When I asked the Eee Pad Slider's minder what the selling price would start at he replied, "Four hundred dollars".
"You mean Euros?" I asked.
"No, US dollars."
Now, if that's right we are looking at less than £300 including VAT for the 16GB Wi-Fi only model.
At that that price I'm buying two and keeping one for the weekend. Even at €400 (£340), it's decent value so, fingers crossed, the guy had his currencies right and that Asus hits its "May/June" shipping target.
Verdict
Asus' Eee Pad Slider has the internals and look to match any of the latest Android tablets, but with a neat smartphone trick: a slide-out Qwerty keypad. Netbook fans who hate tablets because they lack keyboards will need to think again. ®
More Tablet Reviews

Dixons
Advent
Vega
Creative
Ziio
Viewsonic
ViewPad 7
Archos
101
Samsung
Galaxy
Tab

Asus Eee Pad Slider
10in Android tablet with an slide-down Qwerty keypad. How a netbook should be?