This article is more than 1 year old
Review: Lenovo ThinkPad Tablet 2
Win8 Pro, Atom powered fondleslab for grown-ups
I've tried out quite a few variations on the Windows 8 theme just lately – touchscreen notebooks mainly – but I've been dabbling with Boot Camp and virtual machine incarnations on the desktop too but without the finger friendliness. So trying out Lenovo's business-centric ThinkPad Tablet 2 seemed like it would be an easy transition.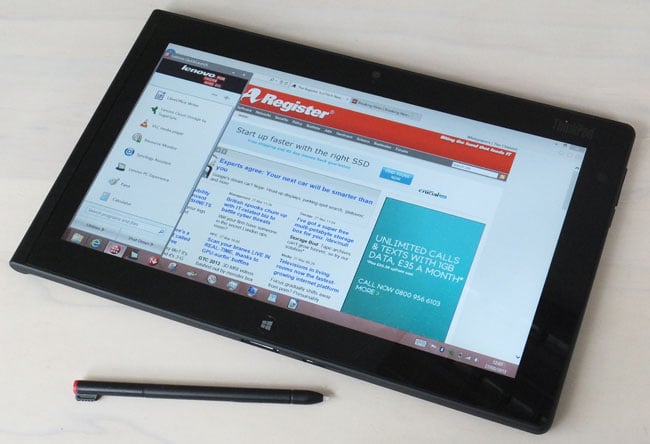 Lenovo's ThinkPad Tablet 2: the stylus is made by Wacom and doesn't rely on batteries
It runs a very capable dual-core Cloverview Intel Atom Z2760 1.8GHz processor and a 32-bit version of Windows 8 Pro. There's 2GB of LPDD2 RAM on board this model with 64GB of e-MMC Flash storage. Its 10.1in IPS screen is responsive, crisp and bright, but not dazzling. At 1366 x 768 pixels, this screen real estate scale helps when it comes to precision tapping.
These things all seem to fit together nicely enough, yet for all the proclamations I've made about Windows 8 needing a touchscreen to be useable, this time I find what I really miss is a keyboard. Now, this doesn't have to be a problem if you buy the OB47270 Bluetooth keyboard stand, which is the more elegant and costly option at £103.

Lenovo's own Bluetooth keyboard stand accessory offers a hybrid option
The ThinkPad Tablet 2 is Bluetooth 4.0 savvy as well as being equipped with a full-size USB port enabling peripheral alternatives. Still, this is a tablet and naturally features a virtual keyboard, but you also get a slim, pressure sensitive Wacom-based stylus that slots into the tablet body. More on this later.
In the hand the ThinkPad Tablet 2's rubberised back and edges feel friendly enough and at 600g it's not too heavy either. It measures up at 263 x 164 x 10mm and certainly doesn't come across as bulky. One thing that is a bit odd though is the back casing doesn't appear solid; press on it and it dips in slightly and then pops out again on release. You'd assume is would be glued or form part of some solid framework, but it feels more akin to skin around the body – like an iPad cover – and behaves like a blister.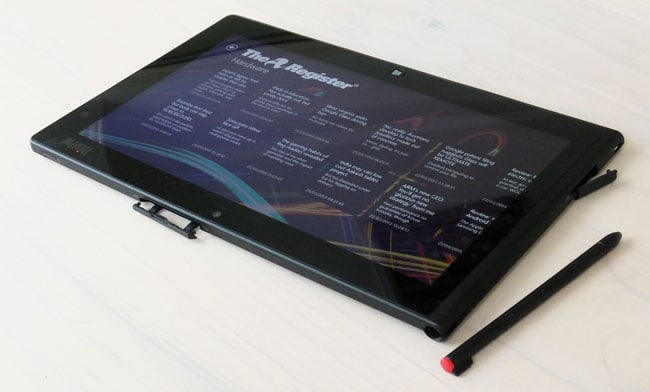 Plastic covers conceal card interfacing and a USB port
The Lenovo ThinkPad Tablet 2 is slightly asymmetrical with its curved left edge that not only houses the pen and micro USB charging port, but under a plastic cover – that will challenge those with hewn fingernails – is the full size USB 2.0 port. Another fingernail challenge along the top edge, is the cover for both the Micro SD expansion and a full size Sim card. Not all models have the latter, though.
In landscape mode, beneath the Windows button, the base has an accessory docking interface and a handy mini HDMI port. Lenovo's trademark understated dress sense does require conscious effort to find the audio mic/headphone port, the charging input and to discover what all the edge buttons do. The recessed power button always involved a bit of a grope to find it and I'd frequently press the orientation lock instead of the adjacent volume up/down keys.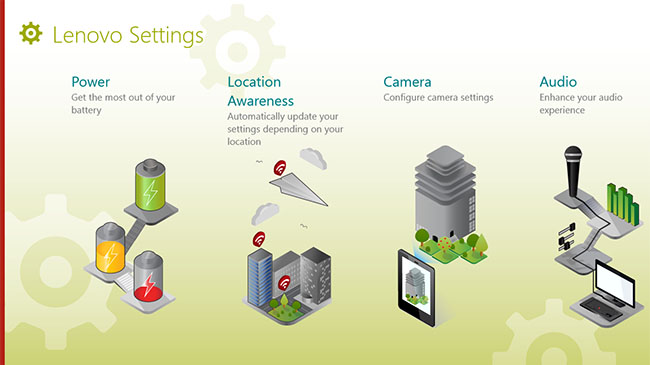 Lenovo Settings provides easy access to common functions
Apart from the inclusion of a Nitro Pro trial with its modest 270MB footprint, on the whole, Lenovo avoids the usual temptation to pack out this tablet PC with bloatware. Its more sober approach involves the Companion app tile that adorns the Modern interface, that takes you to a select sweet shop where you can learn about some of the installed items and can choose others to download. If you're missing the Start Menu, then you'll find Lenovo's QuickLaunch substitute here.