This article is more than 1 year old
Concerning Spiceworks' evil plans for world domination
Sadly, there are few volcanic islands in Austin
Analysis Spiceworld 2013 In the first article in my two-part series on Spiceworks I discussed the company's ambitions for "owning the stack". Not only does it own the coalface administrator's eyeballs, it is starting to own the relationships that VARs, MSPs, and CSPs have with those coalface admins, each other, other vendors and, increasingly, access to line-of-business resources. In this article I will explore how Spiceworks intends to accomplish this.
A spicy platform
Spiceworks is an Austin, Texas-based company founded in 2006 and has over 200 employees. It also has offices in London and San Francisco and is adding employees around the world.
Currently, Spiceworks is well capitalized, having had at least 4 major rounds of funding worth $54M. It is backed by Adams Street Partners, Tenaya Capital, Institutional Venture Partners (IVP), Shasta Ventures and Austin Ventures.
Spiceworks was cashflow positive last year and it is not a stretch to say they could be so again whenever its chooses. CEO Scott Abel was clear during last year's keynote at Spiceworld that growth was a top priority for Spiceworks in the near term.
Traditionally, the Spiceworks application has been a sort of mid-range network monitoring application married to passable help-desk software. It's better by far than many of the other freebie offerings on the market, but it will never be all things to all people. There is a reason that enterprises pay big bucks for high-end management solutions, and Spiceworks will never match many of these applications on its own.
Look at the feature requests for Spiceworks and you will find more than 3,000 entries. Spiceworks cannot meet those needs with first-party development. Plug-in growth is slow, in part because developing plug-ins for Spiceworks is a pretty miserable affair. This is set to change.
Spiceworks is evolving. As the company fully embraces its destiny as a vertically integrated social network its signature application is evolving from a standalone app into a platform, replete with its own app store.
The idea is simple: Spiceworks provides a base application that does network discovery and management. It will post APIs that developers can code "apps" (plug-ins) to. Vendors code support for their software into an app and users can select apps they wish to install. This is pretty standard, so far as these things go.
Application en voie de developpement
To be blunt, the software side of the equation hasn't been fully fleshed out yet. But for all the gaps in theory or implementation, I have little doubt that the major issues will be identified and dealt with, in due course, as Spiceworks has a history of actually listening to its user and vendor communities.
If Spiceworks has an attack surface it's the core application. Starting from scratch, a small, dedicated team of programmers could – with the right design model – recreate a more extensible and scalable Spiceworks in about a year.
Facebook, Google, Microsoft are just three examples of companies that could replicate the Spiceworks application at will. They have the resources, technology and manpower to build a similar network management tool and provide a "platform" for vendors to plug their apps into, if they felt for a brief moment that it suited them to do so.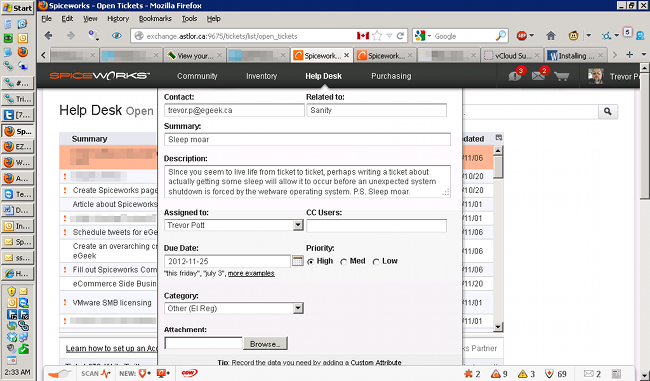 Some of the better free software out there (click to enlarge)
While I'm sure that someone coming along and duplicating their application would make developers at Spiceworks deeply unhappy, at this point, besting their core application or platform wouldn't even slow Spiceworks down.
Profiles
Spiceworks' real trick is the brand new 'profiles'. The brainchild of Tabrez Syed, Spiceworks' VP of product management, Profiles are a visual way for IT professionals to "show off" their life's work.
By way of example, Syed cites photographers. A photographer can build a portfolio of his best works to show others. It takes a writer minutes to knock together a webpage with hyperlinks to her best articles or novels; doctors and scientists often assemble portfolios of their best published papers.
But the closest that most IT types get is a LinkedIn page or a resume. This is dry, bland and doesn't really tell you much about the individual or the works accomplished. Like a paper resume, these 'websumes' are formulaic and often embellished. The adventuresome ones will choose non-standard job titles or descriptions; my use of Brain in a Jar being positively risqué by LinkedIn standards.
If you wanted to get a sense of the flavour of the individual you could try Twitter, but even that's a crapshoot. Twitter might tell you something about the person, but it doesn't really tell you much about the projects he or she has worked on. (If you dig through the inane drivel on my Twitter account you might be able to data mine something useful. Mostly you'd realise that I am addicted to coffee, like Portal references and enjoy trolling Peter Bright.)
Enter Spiceworks profiles. Everything about them is project-based. Instead of talking about who you worked for or what you like, you build a portfolio of what you've done. The idea is to toss a video – or some pictures – alongside a brief description of whatever server upgrade, data center refresh, middleware rewrite or what-have-you that you're particularly proud of and show the world.
Highlight the technologies and products you've used during your project and they'll show up on your profile. In theory, this creates a much better representation of your professional experience than LinkedIn's resume-driven conceptualisation and a better feel for the professional character of the individual than Twitter ever could.
Combine this with the recent launch of Spiceworks' job board and I'm sure even the readers possessed of the least amount of care are sufficiently awake to connect the relevant dots.